Unlike popular belief, there is no Google penalty for duplicate content. That said, it can harm your website and digital presence immensely. It'll prevent your articles or blogs from ranking in the search results as it becomes tedious for the search engine to determine which content is in the original one. As a result, search engines are compelled to choose one duplicate content over another. 
In either case, the visibility of every page with similar content diminishes. While publishing repurposed content on your website can do wonders, posting duplicate content can be counterproductive.  
For those not aware of plagiarism, it is when you copy-paste someone's work online and call the work your own. And when you do so, you're carrying out copyright infringement. It is wrong both legally and ethically. 
In order to avoid committing plagiarism, you can use SEO tools for plagiarism. Apart from checking for plagiarism in the content you're publishing, they'll also look over their quality. It'll also help you avoid minor accidental plagiarism that tends to happen sometimes. 
Potent SEO tools plagiarism checkers scan your work against a content database. After that, these flag similarities, if any. Today, there are numerous SEO tools for checking plagiarism that you can choose from. 
While some SEO tools plagiarism checkers are paid for, others are free. We've created a list of the best SEO tools for checking plagiarism for your convenience. The options mentioned will help you avoid duplication and the trouble that comes with it in your upcoming projects. 
15 SEO Tools For Checking Plagiarism in your Next Project 

If you have to check bulk work for plagiarism, this one is the best tool for you. Launched in 2004, Copyscape is a fan favourite and works exceptionally well. The website may seem a little rusty but work efficiently nonetheless. 
When it comes to checking the originality of any material related to the web, it is one of the best tools. That said, you can get only get spot-on results with its paid versions.  
Features: 
It provides a free service that searches for plagiarism. 

It gives email alerts if you're offline. 

Its paid premium service comes with batch searches.   

Plagscan is amongst the top 3 SEO tools plagiarism checker that is free. It is super easy to use and an excellent alternative for young writers, teachers, and students. Apart from plagiarism, it helps you with citations as well. 
Features: 
Easy to understand and use. 

Safe to navigate. 

The First 2000 words are free. 
You've probably been living under a rock if you haven't heard of Grammarly. Apart from correcting your grammar, this tool also checks for plagiarism. The only downside to this feature is that it's slightly expensive. You can use the free version, but it lacks many features. 
Features: 
Seamless to use on laptop or smartphone. 

It is super accurate. 

It offers different paid plans. 

This SEO tools plagiarism checker is faster than many of its counterparts. It can tell you about the originality of a document within 4-5 seconds. Moreover, it does not save any of the uploaded content on its database, making it safe to use. 
Features: 
It guarantees the safety of your content. 

It reviews your work within 4 seconds. 

User-friendly interface. 

It offers decently priced plans. 

This cloud-based SEO tools plagiarism checker highlights the text that has plagiarism. Moreover, it also identifies the sentences you've paraphrased so you can alter them. By notifying you when someone copies the content, Copyleaks projects your article's copyrights. 
Features: 
Free subscription with 2500 words/Month. 

It offers a mobile application. 

It comes with built-in translations for several languages. 
This tool checks for plagiarism by putting your content against the other content on the internet. If your content is plagiarized, it'll even rewrite your content for you. 
Features: 
It is free to use. 

Allows you to check plagiarism in different languages. 

Support multiple formats (.pdf, .doc, .docx, etc). 

You can use this SEO tools plagiarism checker to make your content authentic and unique. It offers a free trial to new users and gives results within a few seconds. With a monthly subscription, you can scan multiple content pieces for plagiarism. 
Features: 
Quick to show the duplication report. 

Super easy to use. 

It doesn't re-upload your text, making it safe to use. 

Duplichecker is a top-notch free plagiarism tool that offers immense comfort. It is easy to use and provides keyword selection. While it is 100% free of charge but signing up is necessary. 
Features: 
It works efficiently and is user-friendly.  

It provides keyword selection.  

Free to use.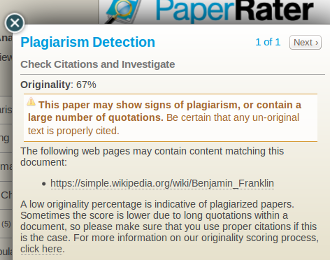 This SEO tools plagiarism checker doesn't require you to sign up. All you have to do is upload your document to see if the content is original. Apart from correcting grammar and spelling mistakes, PaperRater also rates your content standards. 
Features: 
It is free to use. 

Highly secure platform. 

Super accurate. 

Another SEO tool that checks your content against millions of online websites effectively is Whitesmoke. However, it doesn't work in devices that do not possess M.S Windows. So if you're a Mac user, opt for some other plagiarism tool. 
Features: 
Effective and efficient. 

Easy to use.

Can translate content into 50 languages.
This tool offers a free version that indicates how unique your content is. It does this using a unique percentage tool feature. You don't need to create an account on this platform. Plus, you can access it on Windows, Mac, or your Smartphone. 
Features: 
It deletes your content after 24 hours. 

Allows you to submit work in different formats. 

Easy to use and offers a free plan. 

Compatible with all browsers. 

Edubirdie is one of the most feasible, economical, and easy to use SEO tools plagiarism checker out there. The only downside is that no one about the safety measures it follows. So if privacy is a concern for you, opt for some other tool. 
Features: 
Easy to use and viable. 

Free to use. 

If you're looking for a potent and free SEO tools plagiarism checker, then this one won't disappoint you. It is easy to use and doesn't have a word limit. From a 300 word article to a 5000-word e-book, everything is welcome. For those willing to pay a heavy amount, this tool offers a premium version. 
Features: 
High efficient 

Easy to use 

No word limit 

The Premium version comes with practical tips. 
This one is perhaps one of the oldest SEO tools plagiarism checker out there. Much like other checkers, you also need to copy-paste the text on the website to scan. You can expect detailed analysis showing your work's quality. 
Features: 
It is Economical. 

You can scan 1000 pieces/day without restrictions. 

It offers a smooth user interface.  

Turnitin was started as a peer review tool back in 1998 by 4 UC Berkley students. However, it came on the internet in 2000. Over the years, it has benefited students, teachers, and writers. In addition to being a plagiarism checker, Turnitin also helps enhance your overall writing. That said, it isn't exactly safe to use or economical. 
Features: 
It accepts different file formats. 

Accurate and effective. 
Conclusion 
Apart from being ethically wrong, plagiarism can also be the cause of your downfall. So if you don't want to harm your reputation, it's essential to use a plagiarism checker. Putting original work on your website and social handles will also draw more traffic and give you an opportunity to generate more income. 
All the SEO tools plagiarism checkers mentioned above are functional tools to review any plagiarised text. In addition to checking for duplication, some of these tools also check for grammar and readability. So you can cash in on their features to enrich the overall experience for your readers. 
Read More Here: