We live in an extremely fast-paced world and in this speed of life finding the time to prepare for a meeting is so daunting, that we usually forget about the fact that we have to decide on a place for the meeting. This whole process can also become a complete ordeal especially for freelancers who do not have a permanent office or an office with a meeting room. Finding a meeting space that isn't noisy, has a good internet connection, and is not just a run-of-the-mill coffee shop is extremely tricky.
The importance of a good meeting space should never be underestimated as they not only help in progressing towards a productive environment but also help in providing an atmosphere that facilitates effective and decisive meetings.
Here's a list of cafes that are ideal for your next important meeting!
With myHQ, you can work from 100+ beautiful and creative cafes, coffee shops, and lounges in Delhi NCR. As a myHQ member, you get access to all the work amenities like free 20 Mbps wifi, stationery, comfortable seats with guaranteed plug points and more. And that's not all. You also get 1+1 free on tea/coffee and a 15% discount on food.
myHQ work plans are affordable and visit-based with lifetime validity. With one subscription, you can work out of any myHQ work cafe and these visits get deducted only when you use the space.
Book your free day trial here.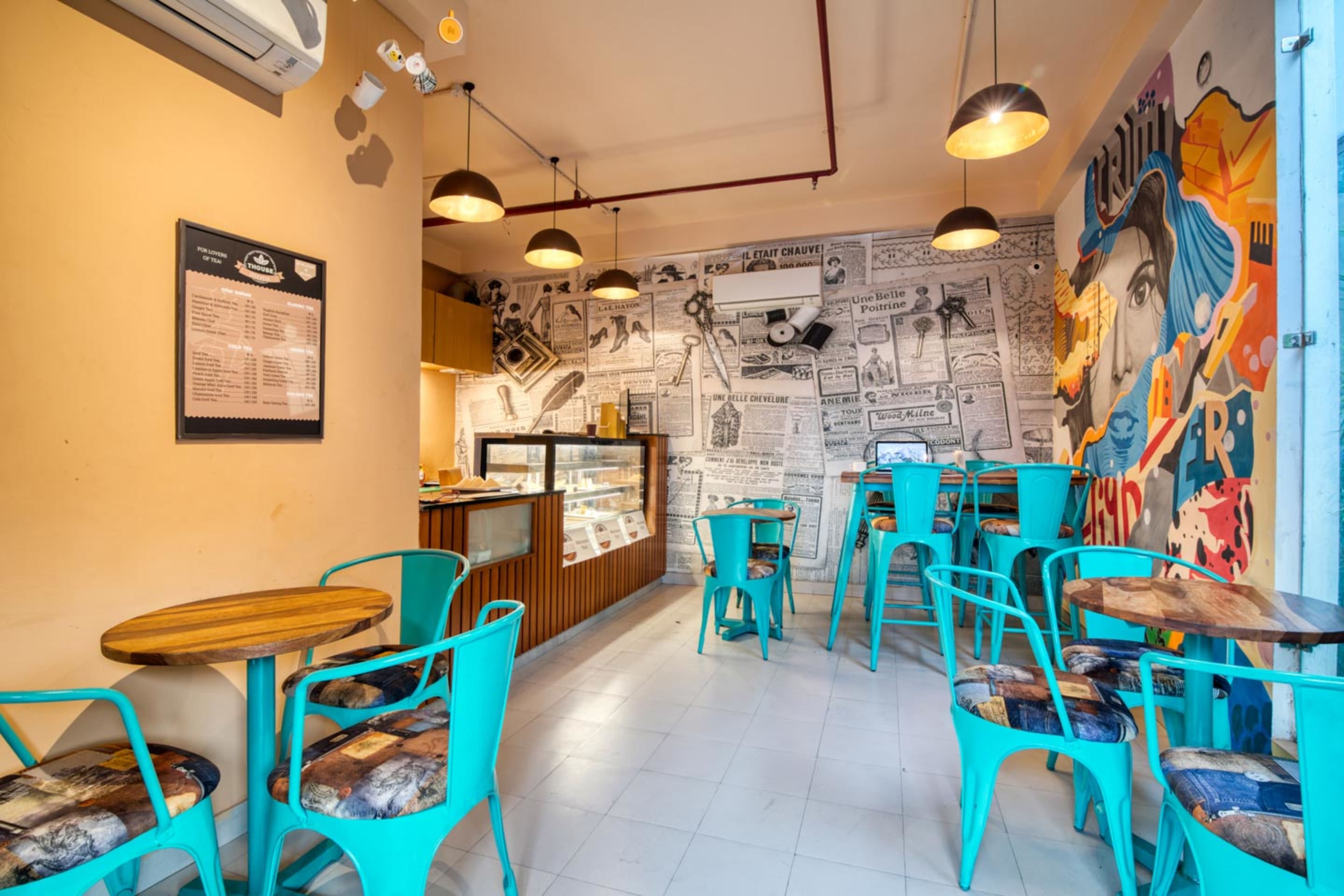 This workspace is set in Gurugram. This cafe has an exclusive coworking area and an extremely vibrant yet quaint setting that makes the place very unique. The best part about having your meeting here is not only the convenience of the location but also the privacy to have a discussion freely while enjoying scrumptious meals at a discounted price with myHQ's discounted coworking menu. This get's supplemented with high-speed internet, office stationery, plug points, etc.
Book your Free Day Trial at THouse here.
To make working seamless, you get:
Free Fast Wifi  |  Discounted coworking menu  |  1+1 on tea/coffee  |  15% cashback on the bill
There cannot be a sweeter place than this for an important meeting, the amazing aroma and the work-friendly atmosphere will make sure that you are able to close the deal or client. This space has a high-speed internet connection, easy plug points access, and a delicious coworking menu that will heartily satisfy your's and your client's sweet tooth.
Book Your Free Day Trial at IHOP, Saket, and Cyberhub
To make working seamless you get:
Free Fast Wifi  |  Discounted coworking menu  |  1+1 on tea/coffee  |  15% cashback on the bill
Social is perhaps one of the best things to have happened to millennials. Each one of their venues is quirky in a different way, with the familiarity of a great menu.
The social outlets offer you the perfect space and amenities to co-work from and become your playground to unwind soon after work.
To make working seamless you get:
Book your Free Day Trial at Social!
Free Fast Wifi  |  Discounted coworking menu  |  1+1 on tea/coffee  |  15% cashback on the bill
This cafe is so beautiful that any meeting that you would host here would definitely end in your favour. This space is the perfect morning meeting space as it has wonderful white interiors and delicious coffee to wake up your senses and make you alert for the meeting. To make things more interesting, this place is also very easy on the pocket as you get 15% cash back on whatever you spend.
Book your Free Day Trial at Cafe Soul Garden!
To make working seamless, you get:
Free Fast Wifi  |  1+1 on tea/coffee  |  15% Cashback on bill amount 
What better place to have your meeting than a beautiful library that is also a cafe so you get delicious coffee. This place is so quaint and nice that this will not only become your ideal meeting spot but also one of your favourite meeting spaces. This work cafe not only offers you scrumptious food but also 1+1 on tea and coffee to make sure that you make a lasting impression on your client with your skills, delicious food, and perfect ambience.
Book your Free Day Trial at The Reader's Cafe!
To make working seamless, you get:
Free Fast Wifi  |  1+1 on tea/coffee  |  20% Cashback on bill  |  Plug points at every seat
7. Potbelly Sandwich Shop (Saket and Cyberhub)
Present in two of the most important and bustling areas of Delhi this meeting space is ideal for those important discussions over coffee. To supplement your ingenuity you not only get 1+1 on tea and coffee but there are also a lot of healthy and economical food options available here.
8. OYO Curryhut, Sec 62 Noida
Another Ideal meeting space in Noida, It is perfect for freelancers and young entrepreneurs who would like to make a lasting impression on their clients. This space boasts of not only having a comfortable seating, but you can also get delicious food items at a discounted price which can be ideal for a lunch meeting. 
9. The Beer Cafe
I understand that when you think of The Beer Cafe the only thought that comes in mind is a tall glass of beer mug and friends sitting and catching up, but at myHQ, we believe in changing perceptions. Therefore at this space, you'll get an exclusive work area made perfect with high-speed internet, easy access to plug points and 1+1 on tea and coffee to help you keep active during the meeting and once you have closed the deal you can easily celebrate with a beer in the evening.
10. Cafeteria and Co.
A place so eccentric, vibrant and pretty that it makes for an ideal meeting space especially if you are a person of the creative field and want a meeting space that matches your vibe. This place is located across Delhi and Delhi NCR. The best part is all the outlets have spacious seating so you needn't worry about anyone listening in on your conversation. 
So if you have an important meeting coming up, you needn't worry on spending the time to find a place to host it, just book your most convenient myHQ space and you are good to go! With more than 90+ locations in and around Delhi NCR, myHQ aims to be not just a workspace provider but a workspace solution.