An important business center in Bengal, Kolkata is home to a variety of commercial office spaces of all sizes and shapes including coworking spaces. Coworking space in Kolkata has an impact on a wide range of enterprises.
In many ways, coworking spaces were designed with small enterprises in mind. Moreover, coworking facilities are also seen as a means to combat loneliness by freelancers and distant employees.
Coworking space in Kolkata has become increasingly popular as a result of post-pandemic businesses readjusting to the new time and work dynamics. This also led to an increase in demand.
12 best coworking spaces in Kolkata for small businesses
There are different types of coworking spaces in Kolkata that offer a variety of workspace alternatives. Check out these 12 coworking spaces in Kolkata that might help your business develop to new heights.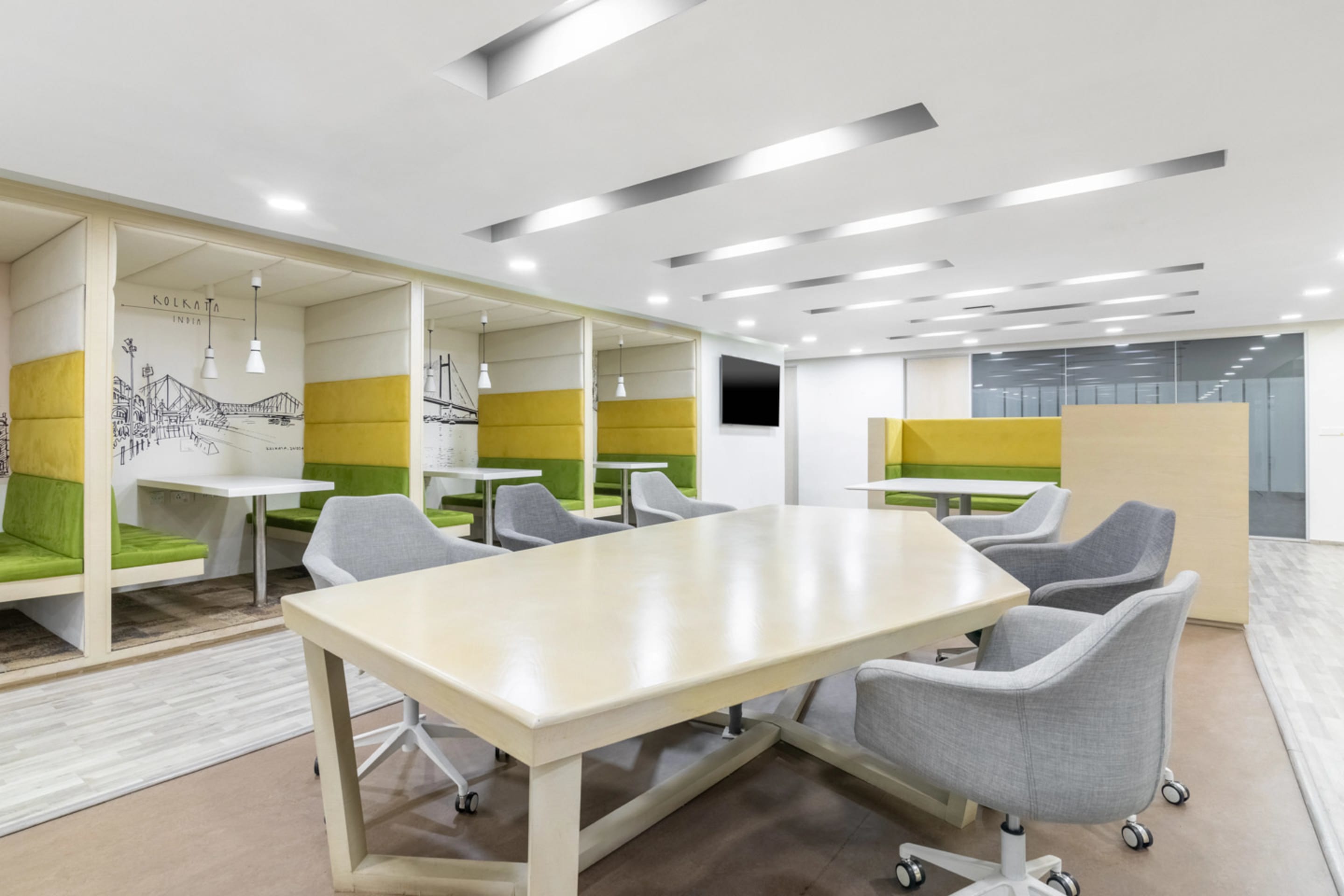 myHQ provides a fully functional collaboration place at an affordable cost. This coworking space in Chennai is ideal for new firms, self-employed workers, experts, and startups. It is a shared workspace that is ready to use, connect, and play, with each of the offices of a corporate office having fewer concerns.
Workstations in this coworking space are fully supervised and have a variety of options that allow you to tailor your packages to your preferences. You may scale up as needed, sign up for as little as an hour, and get started right away.
Facilities offered:
Free Coffee & Purified water
Scanner
Pantry
Ergonomic chairs
Event rooms
High-speed WiFi
AC
Regus, an international coworking space provider, has five different coworking spaces in Kolkata. Their coworking spaces are built to international standards and house a thriving multinational community of professionals.
In their coworking space, they provide a wide range of coworking solutions, making them adaptable to the needs of a wide range of businesses. Through a customized mobile app, all coworkers have simple access to their Regus account.
You can use this to make reservations, locate the nearest space, and interact with Regus' international coworking community.
Facilities offered:
Pantry
Lounge Area
Reception
Breakout Zones
Meeting Rooms
Parking
Address:
8th Floor, Block EP & GP Plot K-1, RDB Boulevard, Sector V, Bidhannagar, Kolkata, West Bengal
Awfis, a national coworking space provider, has coworking spaces in eleven cities across India, as well as four separate locations in Kolkata. This coworking space in Kolkata provides a coworking environment built on creativity and cooperation. It has also got a unique design and cutting-edge technology infrastructure.
The meeting room is one of their coworking spaces' most distinctive characteristics. Moreover, Coworking spaces at Awfis, give you last-minute access to conference rooms for emergency client meetings or urgent team discussions.
The coworking space also offers community activities on a regular basis to help coworkers build professional relationships.
Facilities offered:
Reception
Conference Room
Personal Storage
Lounge Area
Meeting Room
Address:
Godrej Waterside, 12th Floor, Tower II, DP-5, DP Block, Sector V, Kolkata-700091
Smartworks coworking space in Kolkata allows you to work when and how you choose.  The most interesting aspect is their technologically enabled, fully furnished conference and meeting rooms. These rooms are also great for collaborating with your team or holding an important meeting or presentation with your client. Moreover, there are also areas such as gaming zones and a cafeteria to help you unwind during or after a long day at work.
Facilities offered:
Work Café
Event Area
Ideation Rooms
Training Room
Courier Services
Address:
9 Victoria Park, GN Block, GN 37/2, Sector V, Kolkata- 700091
If you're looking for a neat, clean, and reasonably priced coworking space in Kolkata, Nwook is the place to go. It is located in the upscale suburb of Bhawanipore and is well connected to other sections of the city.
Also, the ambiance is quite relaxing in this coworking space. Whether you work alone or in a group, the environment will ensure that your time at work is enjoyable. The nicest aspect about this coworking space is that you don't have to worry about making a long-term commitment.
Facilities offered:
Meeting rooms
High-speed internet
Security
Address:
First Floor, 123, Ashutosh Mukherjee Road, Paddapukur, Bhowanipore, Kolkata-700025.
Workstreet coworking space in Kolkata was founded on the premise of creating inclusive coworking spaces. The professional environment of their coworking space helps to bring out the best in you and allows you to work at maximum efficiency.
Members of this coworking space also get access to a number of networking opportunities through a variety of community events. This coworking space is accessible to a number of well-known restaurants, banks, cafés, and other important civic services.
Facilities offered:
High-speed WiFi
GameZone
Mini Library
Power Backup
Concierge Services
Address:
Martin Burn Business Park Office #1105, BP Block, Sector V, Kolkata- 700091
If you want to get out of your gloomy cubicle and into a larger space, but money is an issue, you should definitely contact this location. This is one of the greatest office spaces for startups in Kolkata, as it is located in a good location. Also, it has a pleasant ambiance, and the clean surroundings make it a wonderful location.
Facilities offered:
High-speed internet
Event rooms
Pantry area
Free refreshments
Address:
Park St, Park Street area, Kolkata- 700071
My Cube coworking space in Kolkata is meant to provide coworkers with a flexible, inspirational, and convenient office. Moreover, this coworking space embodies the millennial entrepreneurial spirit with its cutting-edge architecture that helps members increase their productivity levels.
My Cube coworking space allows pre-booked access to its event area for its coworkers. Also, this coworking space is the right fit for smooth, inventive, hassle-free, and easy-going office solutions,
Facilities offered:
Lounge Area
Library
Business Printer
Parking
Personal Lockers
Address:
Block A-11, 4th Floor, FMC Fortuna Building,, 234/ 3A AJC Bose Road, Kolkata- 700020
Worknests coworking space in Kolkata is housed in the majestic Godrej Tower skyscraper, which is a landmark commercial structure. It provides professionals and companies with carefully planned coworking space in Kolkata that is equipped with best-in-class infrastructure.
Moreover, their coworking space is equipped with the necessary office facilities and a wide range of amenities. It enables high levels of productivity at work as an all-inclusive workspace solution provider.
Also, this space reduces all difficulties of maintaining your office space and encourages simplicity of operations. It provides an onsite professional support team to resolve all your office management challenges.
Facilities offered:
Lounge
Reading Corner
Conference Rooms
Security
Event Area
Address:
Worknests, Unit 806, Tower 2, Godrej Waterside, Plot DP5, Sector V, Kolkata- 700091
Coworking space WS Works is located in the WS House building in the Rajarghat district of Kolkata. In this newly developed coworking space, a diversified group of professionals from a variety of companies can work together in a comfortable environment.
Also, in this coworking space in Kolkata, each seat comes with a lockable storage locker for storing all of your critical office supplies. An office-like atmosphere is created by the coworking space's distinctive layout and ergonomic furniture.
Facilities offered:
Power Backup facility
Conference Rooms
Badminton Court
Table Tennis Rooms
Reception
Address:
Street No. 360 Premises No. 14-360 Plot No. DH-6/8, Action Area 1D, Newtown, Kolkata- 700156
DBS Business Centre is a renowned national office solutions provider with locations in some of India's most important business centers. It offers a variety of coworking alternatives within its magnificent commercial premises at DBS House, their own commercial establishment in Kolkata.
The premises will greet you with a huge lounge area with premium seating configurations. Also, their well-designed workstations provide a seamless and noise-free coworking atmosphere for their coworkers.
The DBS Business Centre coworking space in Kolkata is an all-inclusive, member-friendly solution for coworking space needs in the Kolkata region.
Facilities offered:
Lounge Area
Housekeeping
Security
Pantry
Parking
Address:
DBS House, 10/2, Hungerford Street, Kolkata, West Bengal 700017
The Kwicdeskz coworking space in Kolkata is having a distraction-free coworking atmosphere. Whether it's an individual or a group of professionals, they have a coworking option for everyone. Also, these rooms are outfitted with AV connectivity, allowing you to conduct private business conversations without interference from outside sources.
Moreover, this coworking space in Kolkata ensures optimum safety and protection of all your crucial office equipment through RFID-based security access.
Facilities offered:
Conference Rooms
CCTV Cameras
Pantry
Reception
Address:
19/1 Shakespeare Sarani, Camac St, Elgin, Kolkata- 700017
Final words
Kolkata is a major cultural and commercial center in India's east. Kolkata's coworking spaces are a true reflection of the city's burgeoning commercial and startup scene. Also, these coworking spaces are designed to appeal to the city's burgeoning entrepreneurs. After the pandemic, coworking space in Kolkata has become the office space alternative for the new generation of entrepreneurs.
Looking for more articles? Then read more:
https://digest.myhq.in/what-are-virtual-coworking-spaces-communities/
https://digest.myhq.in/15-coworking-spaces-in-mumbai/