It is safe to say that the Indian workforce has undergone a paradigm shift owing to the rise in gig economy and entrepreneurship. This shift has been intricately laced with the need for a sustainable environment that not only caters to the economical aspect of a start-up but also ensures super productivity.  To accommodate the current trend, several shared office spaces have sprung up across the country. Bangalore is widely regarded for its tech industry and in this article, we will be listing shared office spaces in Hennur, Bangalore. 
The unique selling point of shared office space is flexibility. Research suggests that the coworking trend that caught up in India in 2008, now entails diverse facilities that evolve every day.  Not only does a shared office space help start-ups and companies at a nascent stage without the need for a permanent office space keep their overhead costs low, while still utilizing a traditional workplace setting, but also, enables them to get access to workplace resources and a professional setting that's useful for meeting with clients or collaborating on large initiatives. 
In this blog, we have collated a list of the top 5 shared office spaces ensuring super productivity in and around Hennur, Bangalore. 
1. myHQ
This one of a kind coworking space in Hennur not only caters to the need of a conducive office space, but also makes sure that one has access to the modern amenities needed for a productive outcome. Equipped with Wi-fi, printers, white boards, basically anything and everything one can think of while on a lookout for a shared working space. A vibrant environment that complies to the basic housekeeping standards and the Covid 19 protocols. 
The facilities that they provide include high speed internet, power backup, housekeeping, an intercom facility, meeting rooms with a projector, printers and white boards. While majority of these are freely available, some are available at an extra cost upon request. 
2. Office Republic HBR
A shared office space in Hennur that is the one stop solution for today's fast paced, versatile business environment. Office Republic equips you with everything that you can possibly need to meet your business needs in Bangalore. It's inner aesthetic and vibrant colour schemes play a pivotal role in uplifting your spirits. It is the perfect place to feel and enjoy the characteristics of an office on a budget. 
They offer meeting and training spaces, provide basic facilities like high-speed internet, power backup, office essentials such as printers and white boards, housekeeping, clean and a sanitized work environment. 
3. Plug and Play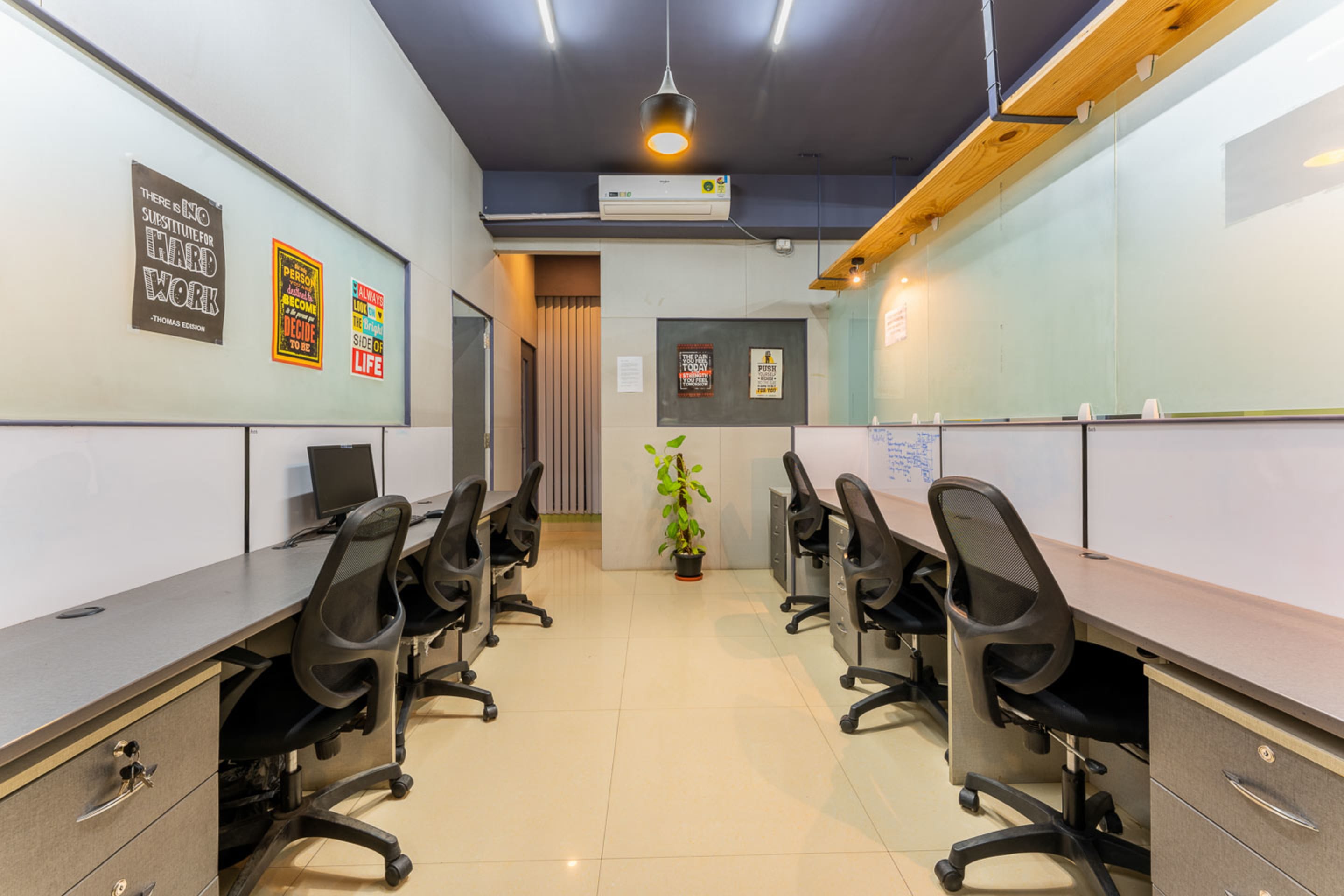 While looking for affordable coworking spaces in Hennur, one must not forget to look further around for gems such as Plug and Play. Plug and Play is one of the most popular coworking places located in Kalyan Nagar, about a kilometre away from Hennur. The modern infrastructure and the creative work environment provide the perfect blend of a casual yet a professional vibe, making it the to go place for entrepreneurs, freelancers and start-ups. 
Other than a clean and sanitised work environment, which is the need of the hour, Plug and Play also provides facilities such as a high speed, uninterrupted internet connection, power backup, free parking for two wheelers and four wheelers, office essentials such as white boards, projectors and printers. A fully stocked pantry, an unlimited supply of tea and coffee and a reception is what makes this place a personal favourite for many. 
4. Uniwork Spaces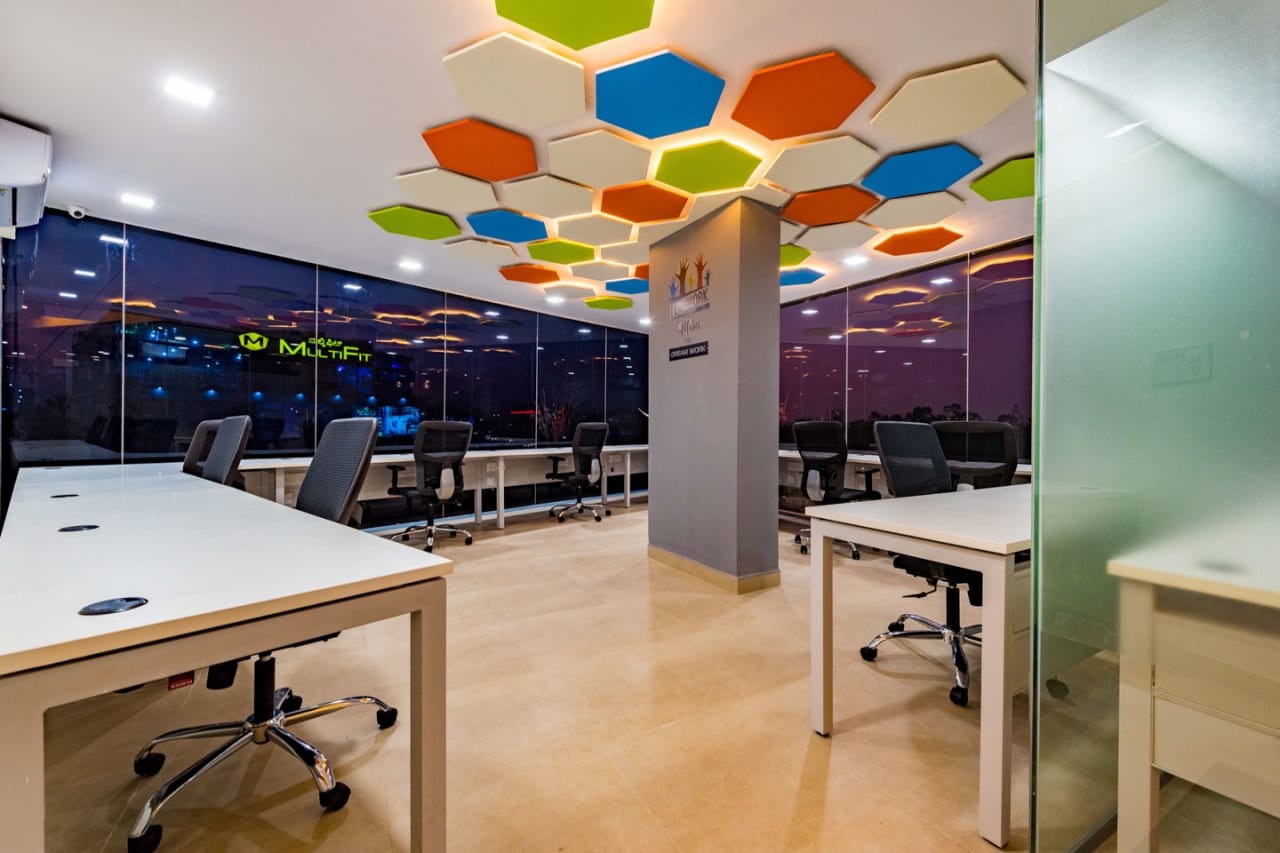 Located at the heart of Northern Bangalore, Uniwork Spaces is the most sought after, shared working space in Kalyan Nagar, roughly about a kilometre and a half from Hennur. It is a fully equipped, modern office of the tech haven of Bangalore. A premium workspace for you to work, grow and prosper in. 
Uniwork Spaces creates a comfortable working environment and allows the one's creative juices flow, thus ensures greater productivity. It lets you focus on your work while everything else is taken care of. The shared office space is open from 9:00am in the morning to 8:00pm at night from Monday to Saturday. Uniwork provides an uninterrupted, high speed internet connection, power back up, printers and white boards, and lastly, periodical supply of office stationery. Other relevant space details include free parking, separate washrooms and spacious seating. 
5. Bubblespace Coworking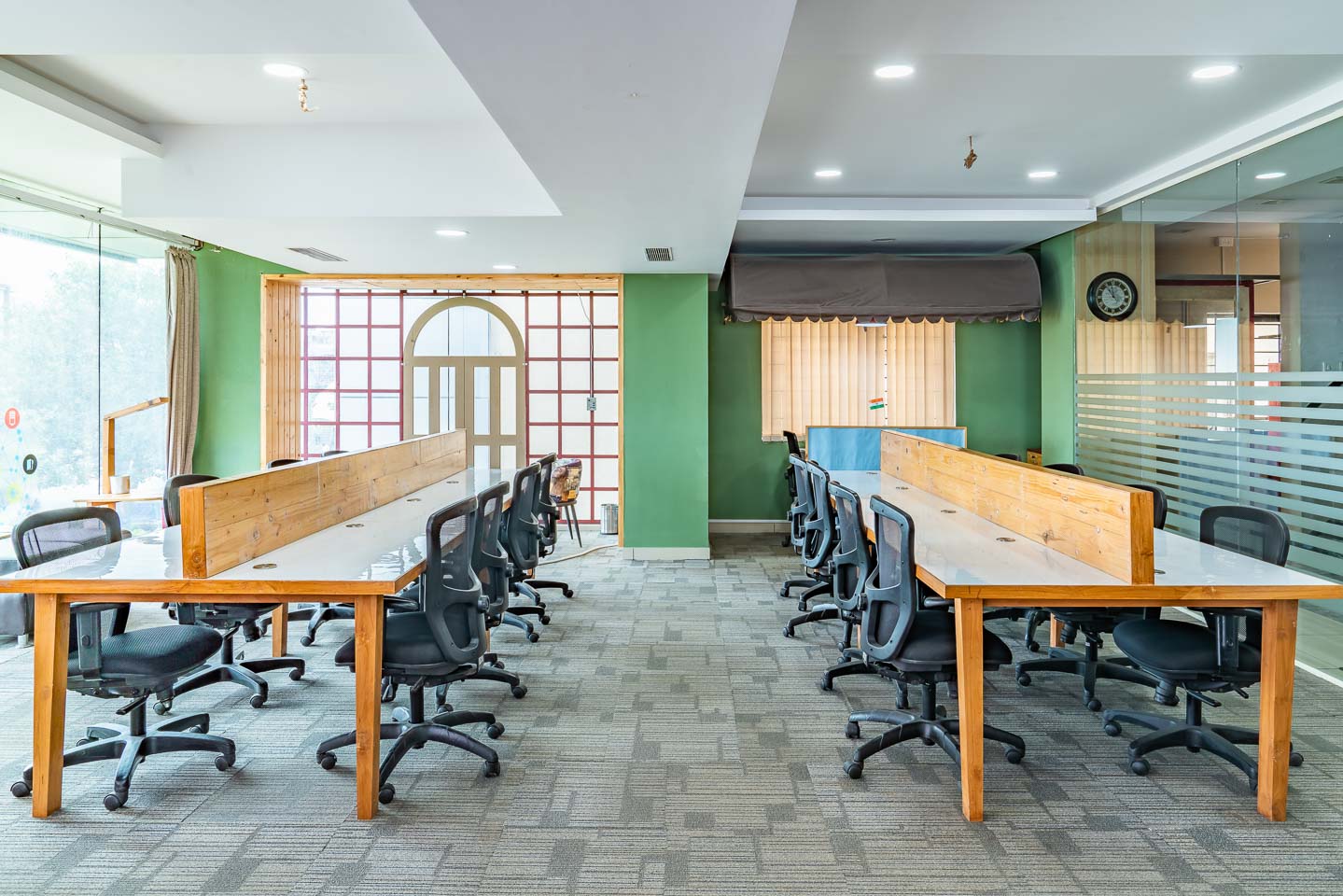 Along with the shared office spaces of Hennur, located right on the service road in Kalyan Nagar at less than 40 meters from the ring road bus stop, Bubblespace Co-working caters to the needs of a community of entrepreneurs, freelancers and creatives who work in a shared office space to succeed. Equipped with modern amenities, it is one of the leading coworking destinations of Bangalore. Bubblespace not only ensures an efficient working environment, but also looks into services such as underground parking, lift, diesel generator for power back up and also a separate entrance, that in turn has a great impact on the overall performance of an individual. 
A centrally air-conditioned workspace with ample amount of natural sunlight, they have a fully stocked pantry, high speed internet, separate washrooms and strictly adhere to the Covid safety protocols. The interiors are fashioned in a way that guarantees a blend of comfort and professionalism. There is ample lounging area with premium built workstations, cabins and chambers and a conference room with an LED screen. Other relevant services include an unlimited supply of hot beverages such as tea, coffee, choco milk, badam milk etc. Bubblespace Coworking is open round the clock from Monday to Friday and from 9:00am in the morning to 9:00pm at night on Saturdays.
Concluding Thoughts
On today's date, if it is of utmost importance for an individual to have a defined workspace, it makes it much easier to eliminate all distractions and get to the task at hand. A coworking space in Hennur, Bangalore brings together people from different walks of life in a shared environment, which in turn helps with the finances, maximizes available workspace, and ensures better utilization of floorspace.
Although the raging pandemic did momentarily paralyse the functioning of such spaces, but now things are getting back to normal, and the demand for cost effective and flexible working spaces has grown like never before. 
Liked this article? Read more: