Also known as the Silicon Valley of India, Bangalore is a prime destination for shared offices. Due to the growing business opportunities, the city has witnessed a massive boom in coworking spaces in the last few years.
And with more competition, each player in the market is trying to push the envelope in terms of amenities. Based on your area or location, there are tons of coworking spaces to be considered.
In this article, we're going to share some of the best coworking spaces in Nagawara. Here are 7 open spaces in Nagawara for small offices in Bangalore.
7 Open Coworking Spaces in Nagawara For Small Offices in Bangalore
1. myHQ

This one-of-a-kind coworking space in Nagawara not only caters to the need for conducive office space but also makes sure that one has access to the modern amenities needed for a productive outcome. Equipped with Wi-fi, printers, whiteboards, basically anything and everything one can think of while on the lookout for a shared working space. A vibrant environment that complies with the basic housekeeping standards and the Covid 19 protocols.
Also, it helps to provide the best work-life balance to its participants. It is equipped with facilities such as cafés, breakout zones, open terraces, and more that help you unwind. Remember, all of these amenities assist you in de-stressing after a long day at work. Also, it will help you to return to work the next day with a clear mind and plenty of energy.
Address: Manyata Tech Park, Nagawara, Bangalore
Facilities:
Conference Rooms

Pantry

Unlimited Tea/Coffee

Power Backup

Printer/Copier

Pet Friendly

Storage Space
2. Regus – Manyata Embassy Business Park

Located in the heart of Bangalore's thriving business district, Regus coworking has vibrant walls, along with tall glass windows. It is a simple, sophisticated shared office space in Nagawara with amenities like power backup, projector, storage space, and high-speed internet. It is surrounded by alluring fountains and pedestrian-friendly walkways that'd soothe you.
Address: Outer Ring Road Ground Floor, Beech, E-1, Manyata Embassy Business Park, Nagawara, Bangalore
Phone Number: 080 4276 4567
Facilities:
Unlimited Tea/Coffee

Storage Space

High-Speed Internet

Meeting Rooms

Spacious Seating

Power Backup
⭐ Important Note ⭐: If you need a virtual office space for rent in Bangalore to start your business, check out myHQ Virtual Office. We provide companies with cost-effective solutions, premium business addresses, and other services like call answering, mail handling, and forwarding.  With the assistance of our team of experts, registering for GST and Company registration will be simple.
3. CoSpaze

This coworking space in Nagawara is ideal for all the entrepreneurs looking to network and grow. They offer open desks, cabins, and managed offices to both small and big sized organisations.
Moreover, this workspace offers you an environment to optimise productivity. As they understand that everyone has different preferences, CoSpaze has distinctive decor at different corners.
Address: BVR Lake Front, Veerannapalya Main Road, Nagawara, Bangalore
Phone Number: 09480351730
Facilities:
High-Speed Internet

Locker Facility

Private Cabins

Unlimited Tea/Coffee

Air Quality Control

Lounge/Pantry Area
4. Incubex
This coworking space in Nagawara allows you to focus most on what you love to do. From designated desks, private offices, enterprise offices to meeting rooms, they've got it all.
Moreover, they also have expansion provisions for teams looking to rent for a long time. Incubex also hosts many networking events where entrepreneurs can connect with like-minded individuals.
Address: 13th Floor, M2 Block, North Avenue, Manyata Embassy Business Park, Outer Ring Road, Manyata Tech Park, Nagawara, Bangalore
Phone Number: 099808 62404
Facilities:
High-Speed Internet

Server Racks

Storage Lockers

Common Areas/Lounge

Unlimited Tea/Coffee

Collaboration Spaces
5. Uniwork Spaces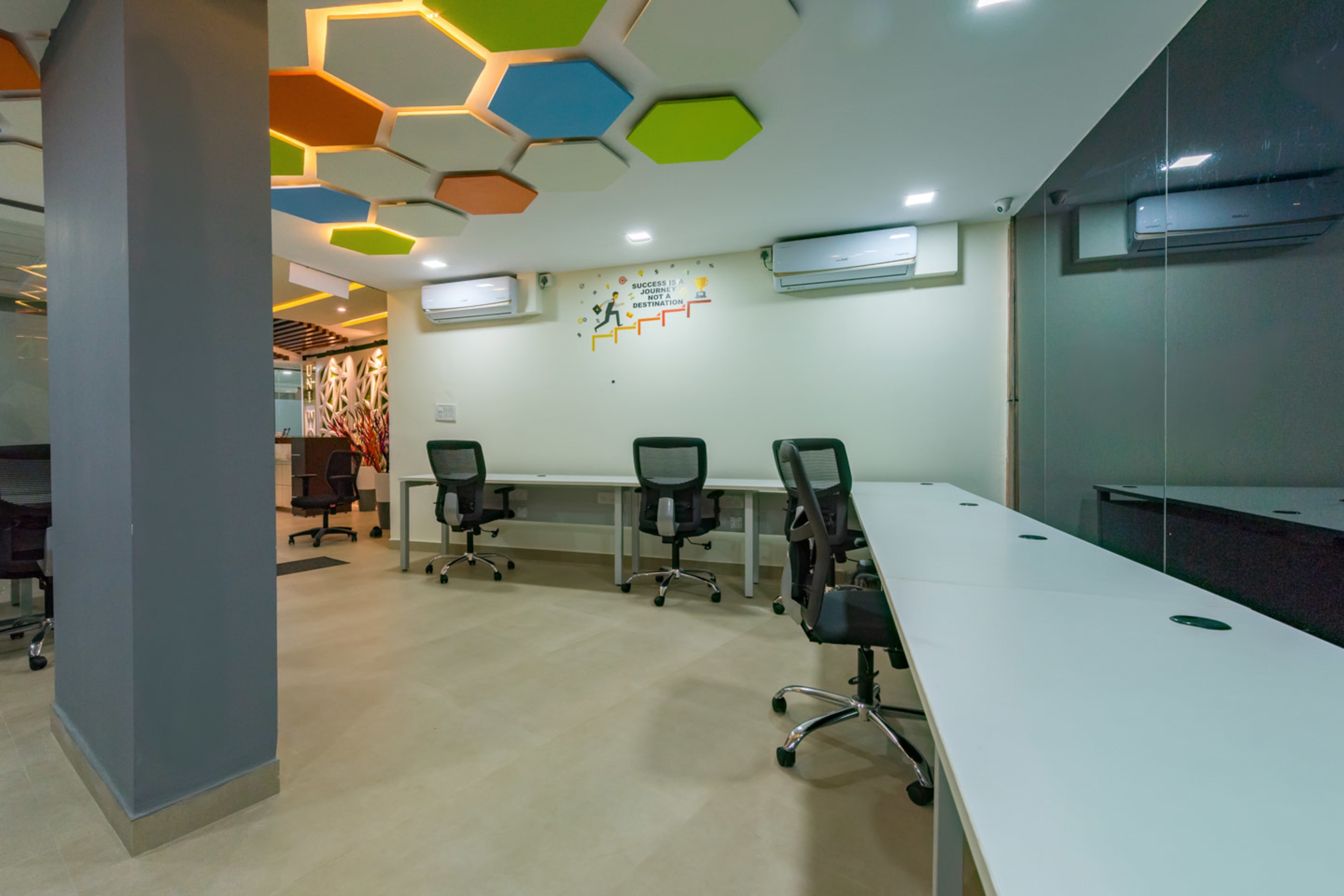 If you're looking for a shared office space in Nagawara with impeccable decor, then Uniwork Spaces is the place for you. In addition to that, you can expect a working environment with natural light, strong coffee, and high-speed internet. Uniwork Spaces is also a place where you'll genuinely enjoy working and growing your business.
Address: 802, 4th Floor, 8th Main East Road, HRBR 1st layout, Kalyan Nagar, Bangalore
Phone Number: 09591911119
Facilities:
High-Speed Internet

Power Backup

Pantry Area

Stationery

Spacious Seating
Check out Uniwork Spaces here!
6. Toyama Bizhub

This coworking space in Nagawara is one of the few shared workspaces that allow for much customisation. As a small startup or entrepreneur, you can expect conference rooms, a fully equipped pantry, power backup, a recreation zone, and much more.
These extensive amenities will provide you with maximum comfort so that you can enhance your productivity.
Address: #64/2 TNT Cresent, Thanisandra Main road, Near Manyata Tech Park, Bangalore
Phone Number: 093418 10663
Facilities:
Training Room

Printer/Copier

Premium Cabin spaces

Storage Space

Air Conditioning
7. Plug n Play Coworking Space

From cabins to open seats, this coworking space in Nagawara has got it all. In addition to that, the working environment at this place is exceedingly friendly. In a way, it is the ideal blend of casual and formal. This place will help you increase productivity and ensure that you deliver nothing but the best to your clientele.
Address: 1st Floor, Number 403, Sai Krupa, 5th A Main Road, HRBR Layout, Kalyan Nagar, Bangalore
Phone Number: 072040 34591
Facilities:
Flexible Seats

Meeting Rooms

High-Speed Internet

Projector

Printer/Copier

Pantry Area
Conclusion
For individuals working from home, workdays can get gloomy every once in a while. You tend to feel uninspired and lost. Coworking spaces in Nagawara are a potent way to recharge your creativity and enhance productivity.
In addition to providing a designated space to you and your teammates, shared workspaces also facilitate meetups between like-minded individuals. Go with any of these coworking spaces in Nagawara, and you wouldn't be disappointed.
Liked this article? Then, read more:
5 Shared Office Spaces in Hennur Bangalore for Super Productivity
Top 5 Coworking Spaces in RT Nagar Bangalore, You Should Check Out!