The value of having a dedicated workspace is undeniable. With an increasing number of people pursuing their entrepreneurial goals, there has been a significant increase in the demand for office space in Ahmedabad over the last decade. Coworking Space in Ahmedabad has successfully bridged the gap between the growing demand for a professional work environment and the real estate industry's inability to provide flexible workplace options.
Since the government's help in developing the Startup culture in Gujarat, the number of Coworking Spaces in Ahmedabad has also increased.
Let us now find out the top 9 coworking spaces in Ahmedabad with innovative space design and useful amenities.
Top 9 coworking spaces in Ahmedabad
myHQ offers community-driven coworking space in Ahmedabad for entrepreneurs and startups at a reasonable cost. Also, the members can take advantage of their kitchen and café facilities, as well as the free parking space they give.
Workstations in this coworking space are fully supervised with an ideal environment for teams who benefit from the energy of the coworking space. They have a variety of options that allow you to tailor your packages to your preferences.
Facilities offered:
Free parking
Kitchen
Breakout Area
Lounge
Check out myHQ here!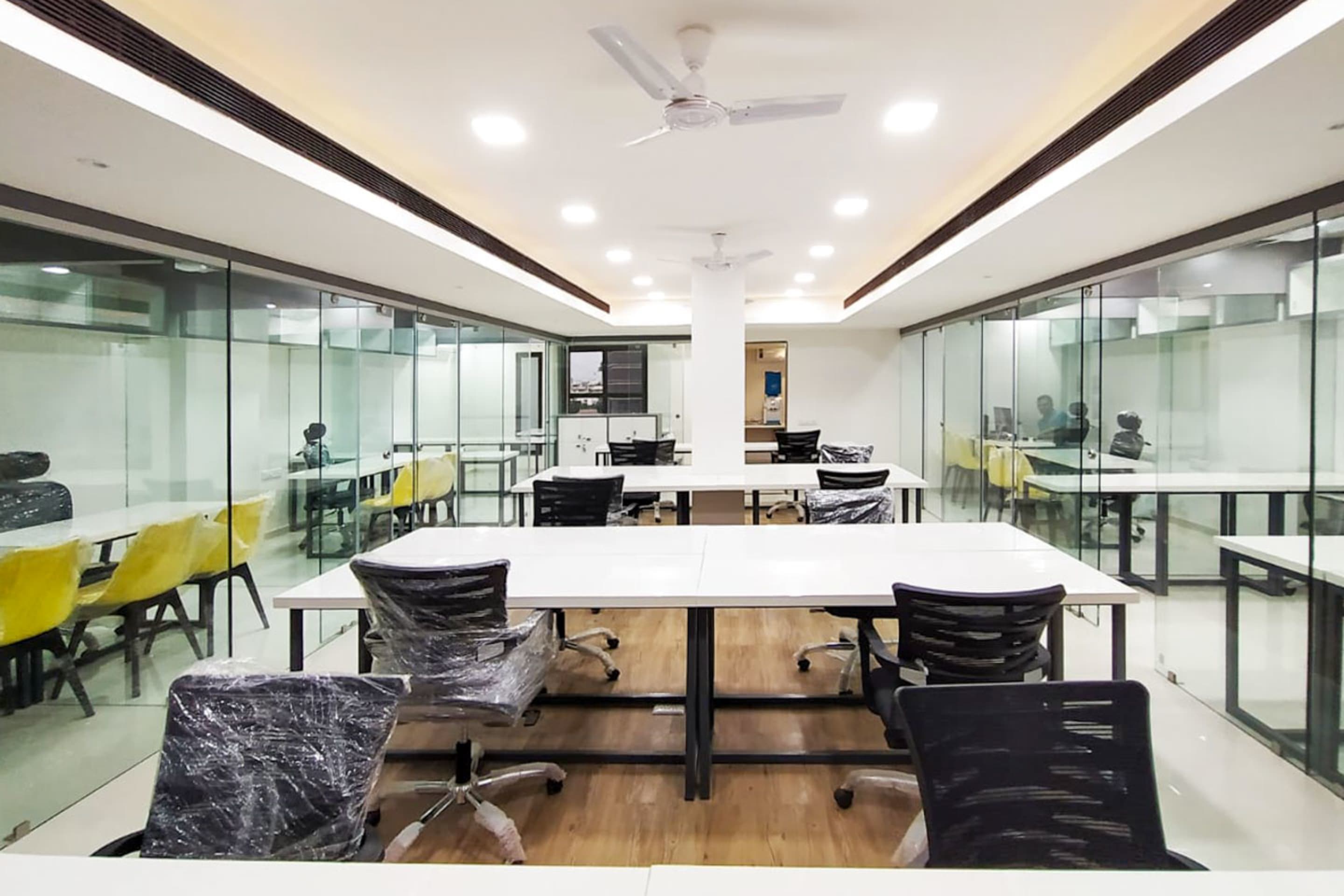 Nuaxa provides vibrant, modern coworking space in Ahmedabad that are fully equipped with cutting-edge technology. It ensures that community members enjoy a positive workspace experience, from security to smooth operations. To keep the community involved, regular networking events, career development workshops, and more are held on a regular basis.
Facilities offered:
Startup Accelerator
3D Printer & Scanner
Day Care & Gym
Cafeteria
Auditorium,
Address:
526, Iscon Emporio, Jodhpur Cross Rd, Satellite, Ahmedabad, Gujarat
Check out Nuaxa here!
In addition to luxury coworking space, Regus – Earth Rise provides professional services to its community members. This coworking space in Ahmedabad also features an event room that may be used for team meetings, seminars, or even promotional events that welcome members from the outside.
This workspace by Regus provides its members with high-speed internet, event space, complimentary tea and coffee, and other facilities.
Facilities offered:
Printer & Scanner
High-Speed Internet
Mail/Courier Handling
Event Space
Address:
11th Floor, Earth Arise, Sarkhej – Gandhinagar Hwy, Makarba, Ahmedabad, Gujarat
Check out Regus- Earth Rise here!
Incuspaze is the place to go if you're seeking a more aesthetically formal work environment. This coworking space in Ahmedabad is ideal for people who are focused on their work because of its minimalistic designs and modern décor.
This workspace is home to a community that is always active, and the work environment is welcoming, with breakaway zones and casual sitting spots for unwinding. They have breakout areas, high-speed internet, photocopiers and printers, free tea and coffee, and cafeteria space, among other things.
Facilities offered:
Printer
High-speed Internet
Breakout Zones
Address:
7th floor, The Link, Vijay Cross Rd, Navrangpura, Ahmedabad, Gujarat
Check out Incuspaze here!
5B Collab is a budget-friendly office space provider in Ahmedabad's prime location. It has a thriving community and is always hosting events and workshops for its members. This coworking space in Ahmedabad provides high-speed WiFi as well as the option of choosing your own furniture in your own private space.
5B Collab is located in Ahmedabad's Vishwabharti Society, directly across from the BSNL office. The prices for Flexi desks start at INR 600 per day and go up to INR 8000 per month for dedicated spaces.
Facilities offered:
Custom-made Furniture
High-speed Internet
Library
Printer
Address:
5B Vishwabharti society, Opp. BSNL office, Opp. BSNL telephone exchange, 2nd Floor, Ahmedabad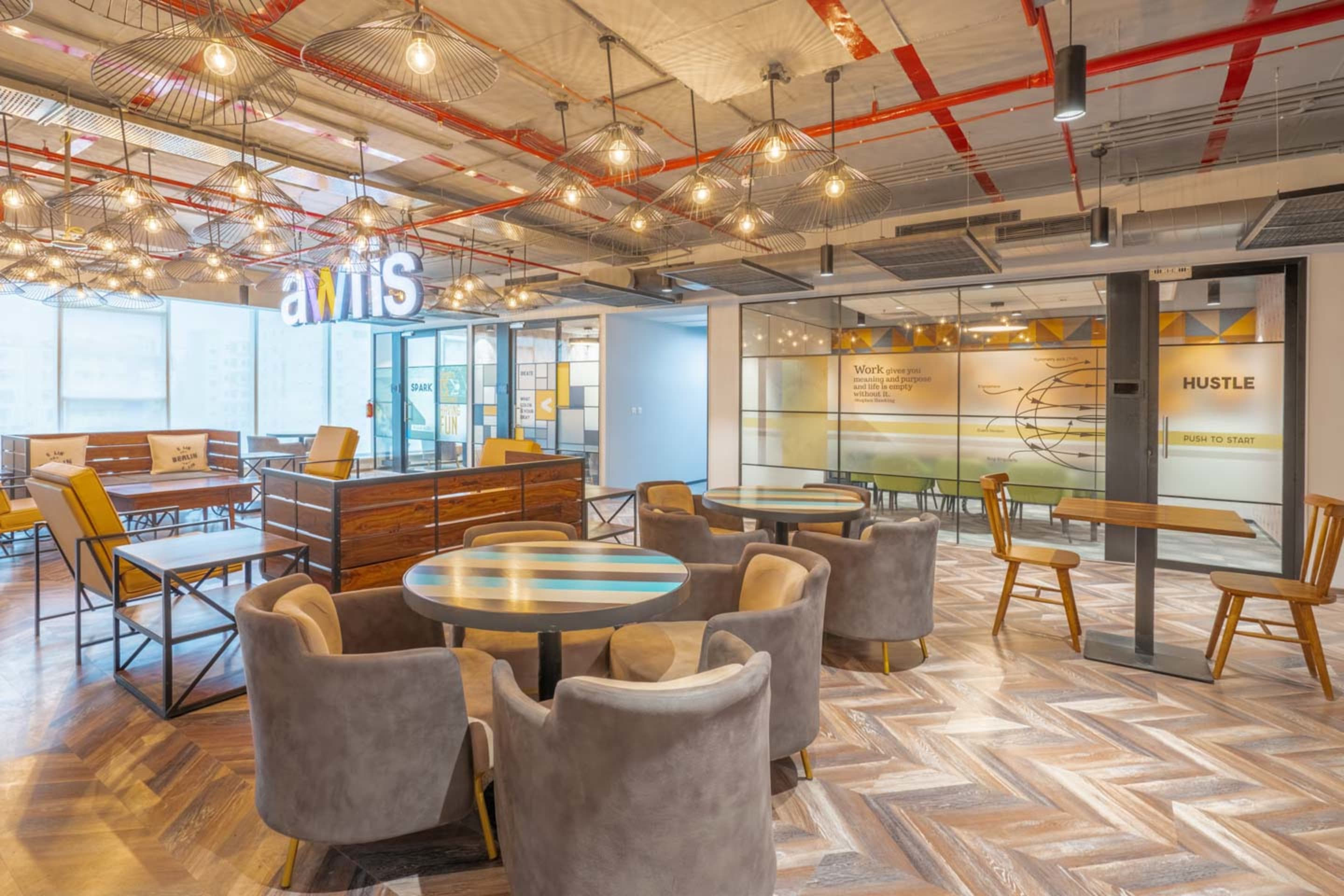 Awfis is a cost-effective coworking space that provides the best-in-class amenities in Ahmedabad for entrepreneurs, freelancers, and startups. They keep the community engaged through community activities and lectures, and their area has a work-oriented vibe.
Facilities offered:
High-speed Internet
Personal Lockers
Café
Ergonomic Chairs
Address:
710, Times Square Arcade, Thaltej-Shilaj Road, Ahmedabad
Check out Awfis here!
This coworking space in Ahmedabad is bright and eccentric, making for an interesting working environment. For individuals who like to work in an open environment, the room also features an outdoor terrace. If the community members at Next57 need a break from the interior, they can work from the outside terrace area.
Next57 is located in Bodakdev's Safal Mondeal Retail Park. Their prices range from INR 7500 per month to INR 34000 per month for a private cabin for four people.
Facilities offered:
Skype Room
Library
Lounge & Breakout Area
Outdoor Terrace
Address:
2nd Floor, Block N, S.G. Road, Safal Mondeal Retail Park, Bodakdev Near, Rajpath Rangoli Rd, Ahmedabad
Karyalaya provides energizing workspaces for its members. The workstation at this coworking space in Ahmedabad is bright and dynamic, thanks to the abundance of natural light. The natural vibes in the atmosphere are enhanced by fresh plantings placed throughout the venue. Members can take a quick break throughout a busy day at work thanks to beanbags and casual seating at the workspace.
Karyalaya is located in Jai Ambe Nagar, close to Titanium Square and Patel Society. Private cabin spaces range in price from INR 500 per day to INR 9500 per month.
High-speed internet, a library, printers, beanbags and casual seating places, event rooms for their community members, free tea and coffee, and other amenities are available. They also hold monthly events to keep the community engaged.
Facilities offered:
Event spaces
Library
Printing Facilities
Beanbags
High-speed Internet
Address:
C–1207, Titanium Square, Patel Society, Jai Ambe Nagar, Ahmedabad
BSquare is a premium coworking space in Ahmedabad with modern furnishings and roomy designs for anyone wishing to work with like-minded people. Members of BSquare have access to a meditation or relaxation zone where they can spend some quiet time alone after a long day at work.
BSquare is located near the crossword in the Shree Krishna Centre in Mithakhali Six Roads. They provide a variety of services for their members, ranging from Flexi desks to private cabins, as well as amenities like breakout zones, cleaning services, café, and event space.
Facilities offered:
Relaxation Zone
High-Speed Internet
Housekeeping Services
Café & Refreshments
Address:
Shree Krishna Centre, 6th Floor, Mithakhali Six Road, near Crossword, Ahmedabad
Final words
If you're looking for a coworking space in Ahmedabad for your company, make sure you know exactly what services each provider provides. Many Coworking Spaces in Ahmedabad go to great lengths to keep their workspaces active and maintain a lively work atmosphere for their members.
Startups can also benefit from choosing a facility provider that primarily serves as a Startup Accelerator. Accelerators allow startups to gain access to their ecosystem, resulting in steady growth for the startup.
Check out some more articles:
https://digest.myhq.in/how-to-avail-offices-spaces-for-short-term-rent/
https://digest.myhq.in/looking-for-meeting-rooms-in-mumbai-heres-our-top-11-spaces-that-you-cannot-skip/