Being a millennial is exciting. The times are unconventional and the dream that you can do whatever you want is finally coming true. One of the most significant ways that work lifestyle in India is shifting is the flexibility to control where you want to work from. While for freelancers this is a given, more and more formal workspaces are also now evolving to become more employee and ultimately productivity friendly.
If you are one of the dreamers (in Delhi NCR!), a driven creative, refuelled by creative and unconventional workspace, this is a list of cafes to sit and work in Delhi NCR!
16 Best Cafes To Sit and Work in Delhi NCR
Listed below are some of the best cafes to sit and work in Delhi NCR:
1. myHQ Work Cafes
With myHQ, you can work from 100+ beautiful and creative cafes, coffee shops and lounges in Delhi NCR. As a myHQ member, you get access to all the work amenities like free 20 Mbps wifi, stationery, comfortable seats with guaranteed plug points and more. And that's not all. You also get 1+1 free on tea/coffee and a 15% discount on food.
myHQ work plans are affordable and visit based with lifetime validity. With one subscription, you can work out of any myHQ work cafe and these visits get deducted only when you use the space.
Book your free day trial here.
2. Social
This one is for the bibliophile and dreamer in you. Social is a comfortable café with a great food and coffee menu has been curated for readers. And for anyone looking to use a well-done space as a catalyst to be productive. Head over to jam for the day and have access to an amazing collection of books to flip through when you need to take breaks.
3. Dr. Zombie
Dr Zombie is a beautiful and cozy cafe with wooden interiors coupled with one of the best playlists you can be treated to (Bob Dylan, Beatles, Queen, Lumineers – you get the drift), amazing food, wifi, and convenient charging points make this just the place to get those creative juices flowing.
4. Spaced Out Cafe
Isn't it just the dream to be able to work in a café with the fragrance of Belgian waffles and freshly brewed coffee wafting about you? Your dream just came true. Spaced Out Cafe with its beautiful interiors, huge glass windows, wifi access, and a wonderfully casual atmosphere is one of your best bets for a productive work session in Delhi.
5. Social Vasant Kunj
Savour the multisensory experience with every ounce of extraordinary served right to your table at the newly launched myHQ workcafe Social Vasant kunj. Treat your palate with the delectable taste from a variety of distinguished cuisines while we let the lively musical underflows drift you to pleasant moods. Carry your work gears with you if you want to outshine yourself because the atmosphere here is set just right for that.
6. THouse Cafe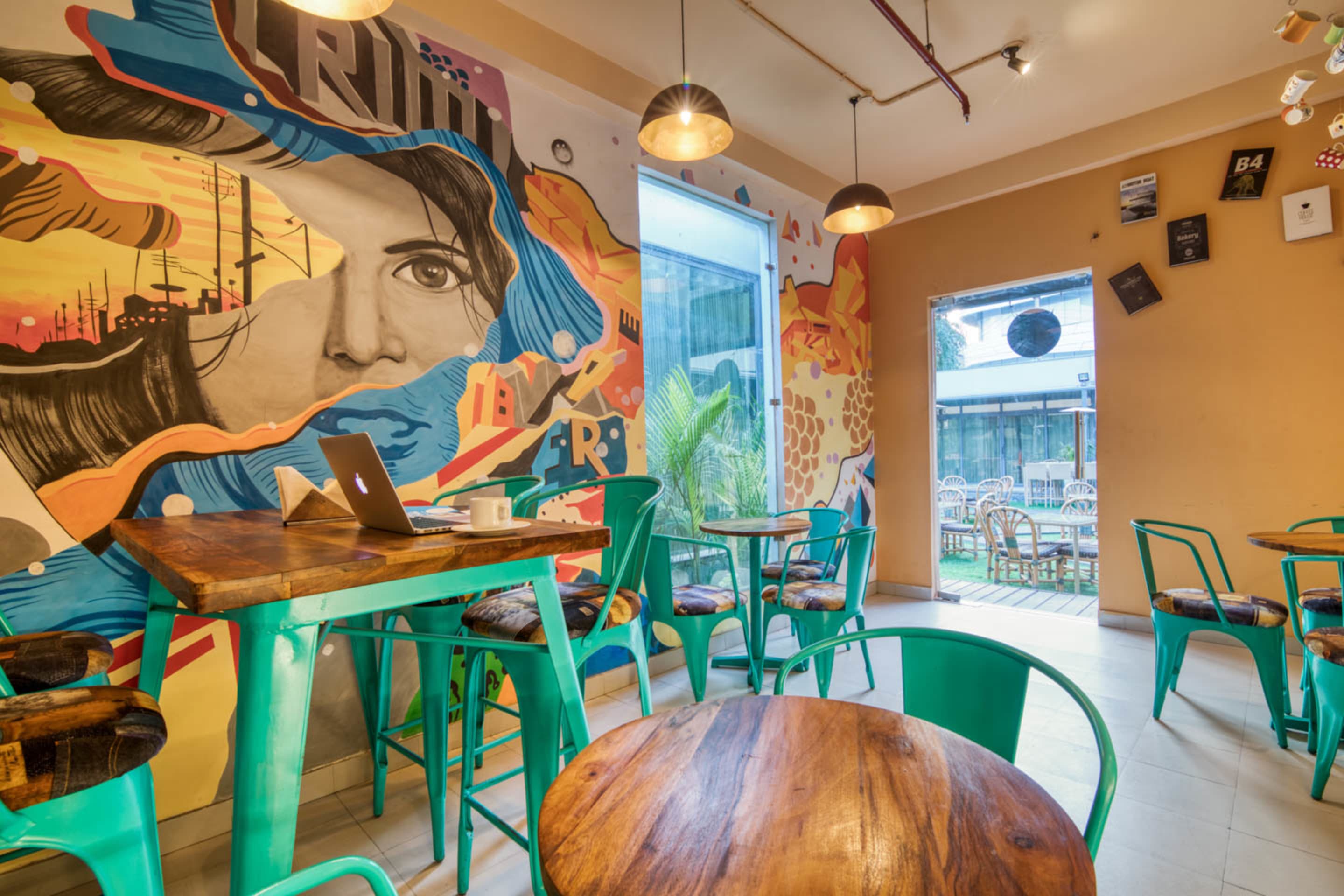 If you're someone who feels productive in a bright, vibrant, and spacious environment, then THouse cafe is just the right space for you to spend your working days.
This cafe also offers you to work from its open garden sitting arrangement for those days when you feel like soaking the sun and sipping a refreshing cup of iced tea while working.
Apart from proving an awesome space to work from, THouse offers a sumptuous snack menu to take care of the hunger pangs you experience throughout your workday.
6. Bruxie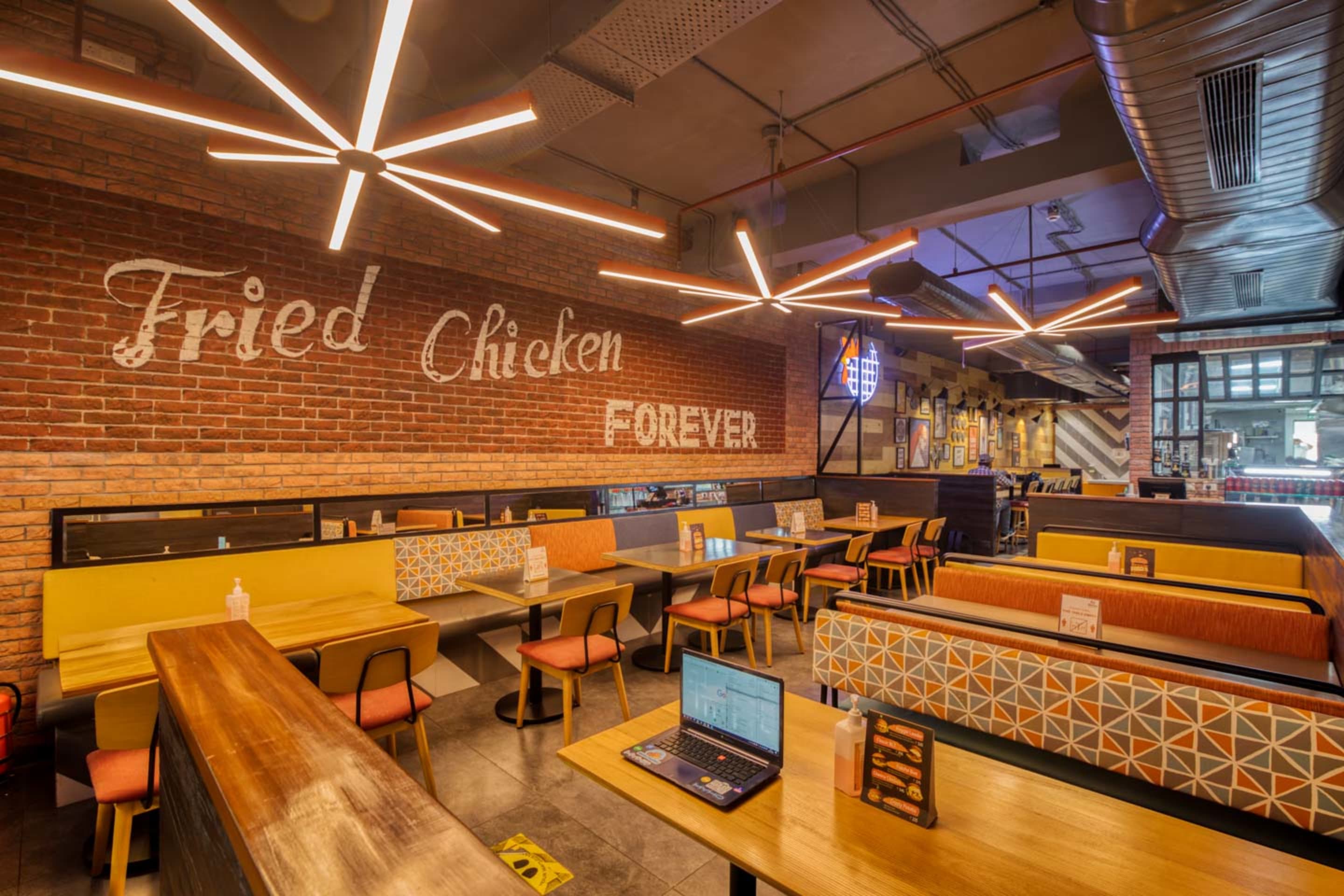 Bruxie in Ambience mall is a rustic themed cafe that flaunts bricked wall interiors with shades of bright yellow and orange used for the seating.
This cafe is perfect for anyone who is looking for a quiet work cafe that serves delectable food at affordable prices.
7. Cafe Soul Garden
Folks in Gurgaon, don't you worry, we've got you covered. If you're afraid of missing out on great options of cafes to sit and work in Delhi because of inaccessibility, you've got quite a few options in the hood as well.
Cafe Soul Garden, this beautiful coffee house has got you covered with internet accessibility, a beautiful garden cafe (of course, you work inside too!), and the best coffee you need to do your business! Calm and quiet are quite the USP of this place as you will often spot adorable turtles, dogs, and cats wandering around you. You definitely cannot miss this one!
8. Barista
Located in the buzzing Huda market of Sector 22, Barista is a premium cafe that offers a select range of international coffee beverages and snacks.
This cafe is sun-flooded with bright colored upholstery which adds just the right pulsing energy to your workdays.
They offer great service (and great espresso!), and you can plug in your laptop and work seamlessly while enjoying the ambiance and food
9. Social Offline
Social is perhaps one of the best things to have happened to millennials. Each one of their venues is quirky in a different way, with the familiarity of a great menu.
The social outlets offer you the perfect space and amenities to co-work from and become your playground to unwind soon after work.
10. Greenr Cafe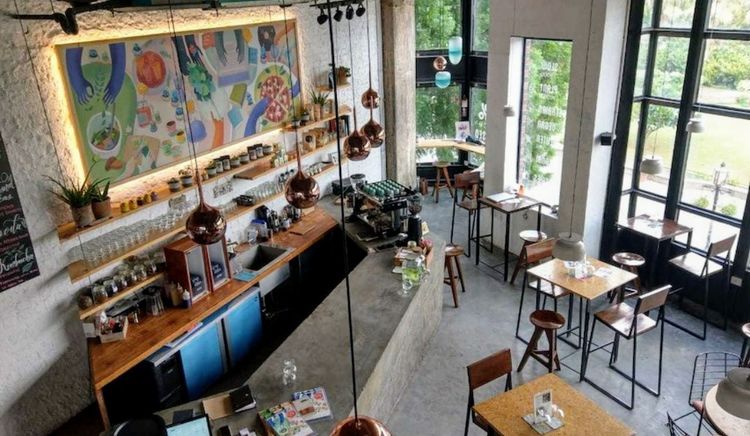 While any list you google looking for "cafes to sit and work in Delhi", will most probably feature this café, it is totally worthy of making it to all the lists out there. With so much green around (yes, they take their name seriously), tastefully done interiors with enough natural light, seamless wifi, and conveniently placed charging points take care of you with a lot of healthy food options and a whole lot of green love while you get cracking on work.
11. Chaayos, Delhi NCR
And one fine day, someone realized, Indians run on chai. So why not kick-ass chai cafes? Why not Chaayos? Head over to any of the awesomely curated Chaayos across Delhi NCR for a seamless work session with great internet, great music (they have the Indian ocean and the erstwhile silk route on their playlists!), and amazing chai to fuel your day of work.
12. Perch Wine and Coffee Bar, Khan Market
If it's one of those days when you want to feel special and can afford to splurge a bit on yourself, head over to Perch.
Plugin your laptop and set yourself up for the day while having a gorgeous view of the green, and access to a delectable menu of not just coffee, but also some great food. Even better – just the place to unwind with some great wine after your day is over.
13. Cafe Lota
Imagine basking in the warm winter sun enjoying makke ki roti and sarso ka saag with a steaming cup of hot filter coffee all while getting your work for the day done!
Seems like the best of both worlds? Well,it is true.
This beautiful cafe located inside the crafts museum at Pragati Maidan is everything we just said it was. If you're lucky, you might even get to hear their in-house flutist casually strolling around and humming away on his flute.
14. Ricos, GTB Nagar, Delhi University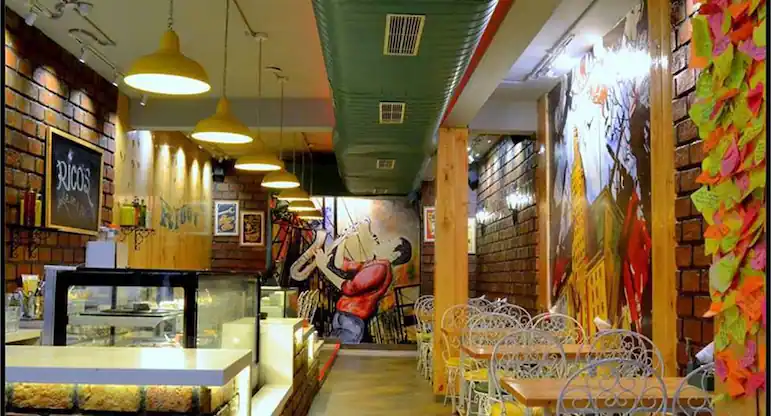 If you're looking for chirpy, vibrant and affordable, head over to Ricos. This café in North Campus, Delhi University area, has been a second home to many students around the area. You can set yourself up here for the day and go on a guilt-free eat-out (because they are so affordable!) as you tick off tasks on your to-do list.
It tends to get a bit noisy around the peak hours, but hey, you asked for chirpy.
15. The Mad Teapot Café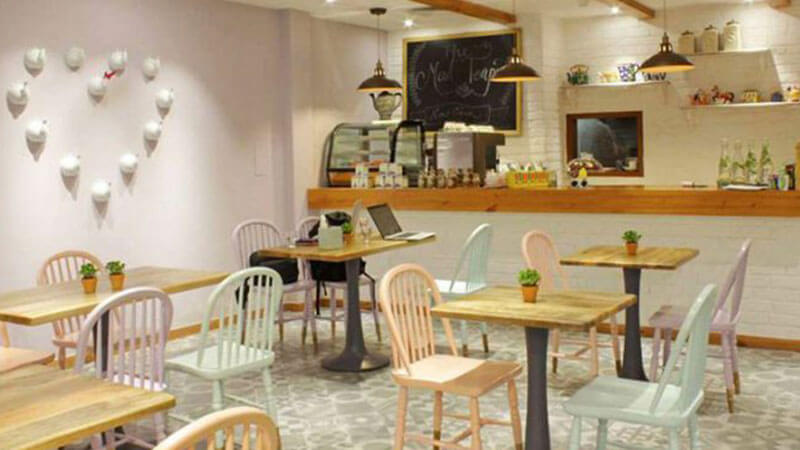 Another great find for those who just cannot imagine getting through a day of work (or life) without tea. Cozy up in this cute café with your day's work while sipping on the extensive choices of chai and nashta they offer. Mellow music, seamless wifi, and power connectivity will enable you in making sure you are as productive as you possibly can be!
16. Blue Tokai Café, Saket
This caffeine pumped, well-lit, comfortably furnished with functional desks and chairs makes this one of the best cafes to sit and work in Delhi. Meet and network with others like you who frequent this café. And here's a secret this is located in Champa Galli. When you walk out of Blue Tokai after work, you will be treated to a very pretty and fairy-lit world.
FAQs on Work Cafes in Delhi
Here are some frequently asked questions on Work Cafes in Delhi
What is a work cafe?
Work cafes are just working spaces that you can utilize and its provides several interesting option for productive and collaborative work. It serves as more relaxed environment where employees or freelancers can work productively. The well-designed environment allows you to connect with like-minded people and boost creativity.
How to choose a cafe to work from?
While choosing a cafe to work from, it is important to ensure that the cafe provides free and fast wifi, because it is necessary for you to complete your work. Another important aspect to consider is the location, make sure that the cafe you are working from is not too crowded, as it might cause a distraction.
Is working from a work cafe productive?
Studies have shown that a good and fresh environment can stimulate your productivity and creativity as it uplifts your mood. The creative environment filled with different kinds of people boosts your productivity levels. Work cafes also allows you to interact and network with like-minded people.
Pick any from these 16 options of amazing cafes to sit and work in Delhi, and you won't be disappointed. Want a sustainable, co-working plan to access some of these beautiful workspaces?
Check out what myHQ has to offer with access to 80+ cafes in Delhi NCR with added discounts and cashback.
Check out these amazing coworking cafes & meeting spaces in NCR: