We all know that setting up a business is no child's play and requires huge monetary investments. Spending money on the infrastructure, paying monthly rentals, covering the cost of maintenance, and most importantly, creating a positive and comfortable workplace for your employees is so much more backbreaking than it sounds. No wonder a lot of us love to break the office walls and work outside of our regular work spaces. That's where coworking spaces and work cafes come into play. This article gives a detailed description of beautiful work cafes in Delhi so as to ease your choice of work cafes.
But err…cafes to work?
When you work in a hospitable cafe, you save yourself from the monotony of sitting on the same old desk in the same old cubical with the sad pinboard which you have tried decorating several times but still doesn't make you excited.
Comfortable seating, refreshing ambiance, good WiFi, and added benefits of a discounted menu in a cafe have made working here a dream come true for the new-age hustlers.
Top 13 Beautiful Cafes Perfect to Work From in Delhi NCR in 2023:
Here's an exclusively curated list of some 13 cafes in Delhi that are just perfect to sit and work.
1. myHQ Work Cafe – Delhi
Partnered with more than 100 cafes across Delhi, myHQ Work Cafes offers its members a range of cafes to work from with themes varying from Italian, Boho to Indie.
As a myHQ member, you get access to all the work amenities like free 20 Mbps wifi, stationery, comfortable seats with guaranteed plug points, and more. And that's not all. You also get 1+1 free on tea/coffee and up to 25% discount on food.
myHQ work plans are affordable and visit-based with lifetime validity. With one subscription, you can work out of any myHQ work cafe and these visits get deducted only when you use the space.
2. Social – Delhi
Everybody loves Social for its food, ambiance, and feel but do you know that they have a special co-working area called antisocial with amazing WiFi and setting? Vibing with good music and a wonderful crowd, this is definitely the place to be. While they have multiple outlets, the one in Hauz Khas still seals the best deal.
Address – Hauz Khas Tank Plot 9A & 12, 24/1, Hauz Khas Village, Deer Park, Hauz Khas, New Delhi, Delhi 110016
3. Dr. Zombie – Delhi
If you are looking for a quirky and stylish work cafe, Dr. Zombie is the best option. It is the perfect workspace cafe where you can work as well as enjoy and refresh your mind. Amenities like a parking area, comfortable chairs and desks, wifi, beverages, an air conditioner, charging points, outdoor seating, a pantry area, power backup, etc. are there to ease up your work.
Address – 1st Floor, C Block, C 35, Rajiv Chowk, Connaught Place, New Delhi
4. Spaced Out Cafe – Delhi
Spaced Out Cafe is a unique boutique cafe in South Delhi. If working peacefully and mindfully is your priority, then you must visit this work café. Located in the heart of South Delhi, this cafe offers excellent beverages and pizza. This cafe is also cost-effective, as the prices are very affordable. Amenities include wifi, a pantry area, a cafeteria, a parking area, charging points, power backup, outdoor seating, and an air conditioning area.
Address – 4A,2nd Floor, Shahpur Jat, New Delhi, Delhi-110049
5. THouse Cafe – Delhi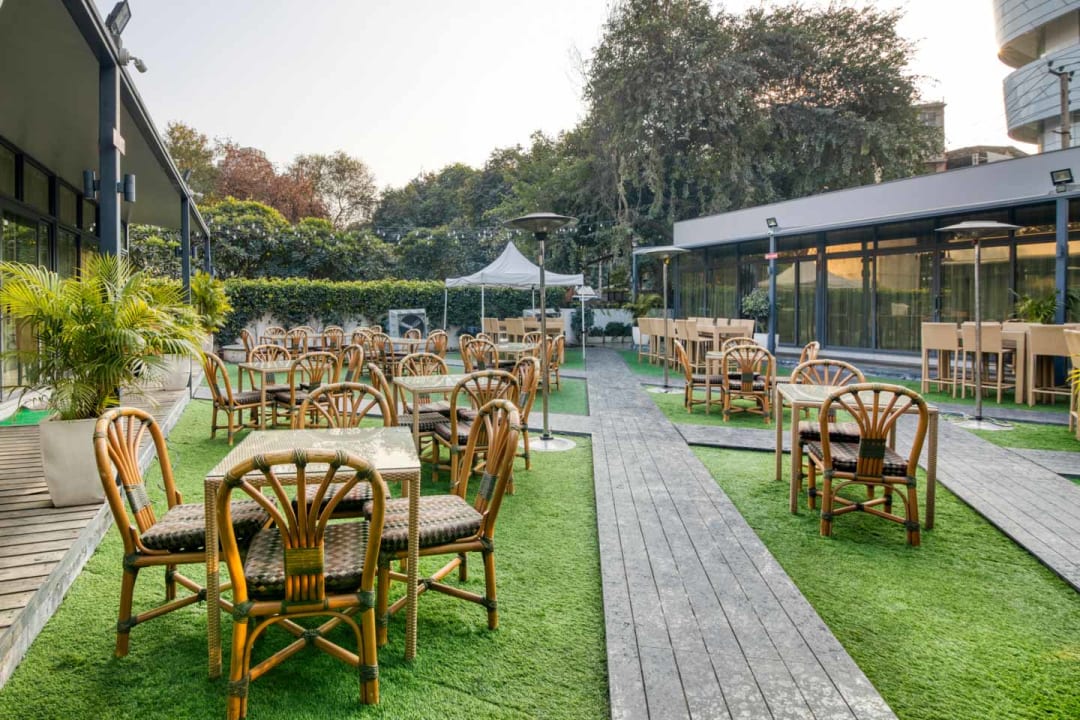 If you're someone who feels productive in a bright, vibrant, and spacious environment, then THouse Cafe is just the right space for you to spend your working days.
With a calm, collaborative setting, this is the place for creatives to meet fellow enthusiasts who appreciate art, beauty, and open living.
6. Bruxie – Delhi
Bruxie in Ambience mall is a rustic-themed cafe that flaunts bricked wall interiors with shades of bright yellow and orange used for the seating.
This cafe is perfect for anyone who is looking for a quiet work cafe that serves delectable food at affordable prices.
Have a look at some other interesting workspace options here:
7. FLYP Cafe – Delhi
As the name suggests, the FLYP Cafe is high on music and a paradise for music lovers. No, it's not loud to interrupt your work but has subtle music playing to give your ears a break from your bosses tantrums. They know how some days can be hard on you which is why they provide free tea and coffee to coworkers. You get to see performances from budding musicians who choose it as a platform to showcase their talent. It is a place where you can work, enjoy food and a good company along with ensured happening plans for your evening.
8. Cafe Qahwa – Delhi
Do you sometimes miss sitting on wooden school benches with those little drawers on the side? Well, when I do I go to the Qahwa Cafe in SDA market. Since IIT Delhi is right opposite the cafe, I have interacted with a buzzing community of students and professionals alike. There's always a learning experience waiting for you here! Plus you will be spoiled by the 25 MBPS internet speed that they offer along with a 10 percent discount on their gourmet menu. Say YAY!
9. Cafe Me – Delhi
Cafe Me is a lively and beautiful cafe that is eye candy for everyone out there. The place has redefined comfort by providing the snuggest chairs and sofas to make you feel at home because bodies at peace make peace.
10. Cafe Tesu – Delhi
Like to start your day with a steaming cup of coffee and a healthy breakfast? Head to the Cafe Tesu to enjoy some lip-smacking snacks to get you going for the day. Not more of an indoor person, don't worry the outdoor seating is just as pretty and comfortable and will make you not want to get up.
11. Pebble Street – Delhi
Pebble Street is the go-to place for people who love chilled out ambiance and snuggle cushions. They serve a very nominal coworking menu card that will suffice your taste buds while you work seamlessly on their blazing wifi. Located in Connaught Place, this is one cool cafe to take your work on a fantastic date.
Articles you may like:
12. The Beer Cafe – Delhi
To save you from the struggle of hard work days, Beer Cafe offers tea at Re.1 to its coworkers. Along with great metro connectivity, they have special parking space for co-workers so your travel is sorted. The WiFi is very fast and you get free office stationary too. Arm rests, chairs, sofas or bean bags the place has it all for a super-comfortable work experience.
13. Fab Cafe – Delhi
Food, service, ambiance! Fab Cafe in Vasant Kunj gets an A+ for all. Just as the name suggests the cafe offers mouth-watering fabulous authentic Indian food customized in the most innovative ways keeping the health quotient in mind. Chic decor, prompt staff and their vegan delectables are what bring most people back here.
When you work in co-working cafes, you feel no restriction to sit on a particular desk in a particular cubical with the sad pinboard that you have tried decorating several times but still doesn't make you excited. What a brilliant idea to turn cafes into workspaces. Comfortable seating, refreshing ambiance, good WiFi, and added benefits of a discounted menu.
The biggest factor though is that you don't have to spend money on maintenance and take care of it all the time. This helps you shun the stress that can be shunned. Be wise and choose the best today.
Read the list of some of our handpicked cafes to sit and work from in Gurgaon and Noida.