Indore is one of India's cleanest, most modern, and fastest-growing cities. The growth of the city's commercial enterprises is the primary reason behind the increasing usage of coworking space in Indore. Coworking spaces in Indore provide a dynamic, focused, and creative work environment. They are host to some of the most popular startups, MSMEs, multinational corporations, and freelancers.
Here are the top 8 brilliantly designed growth-ready coworking spaces in Indore that can readily accommodate teams of any size.
Top 8 Coworking Spaces in Indore For Teams Of All Sizes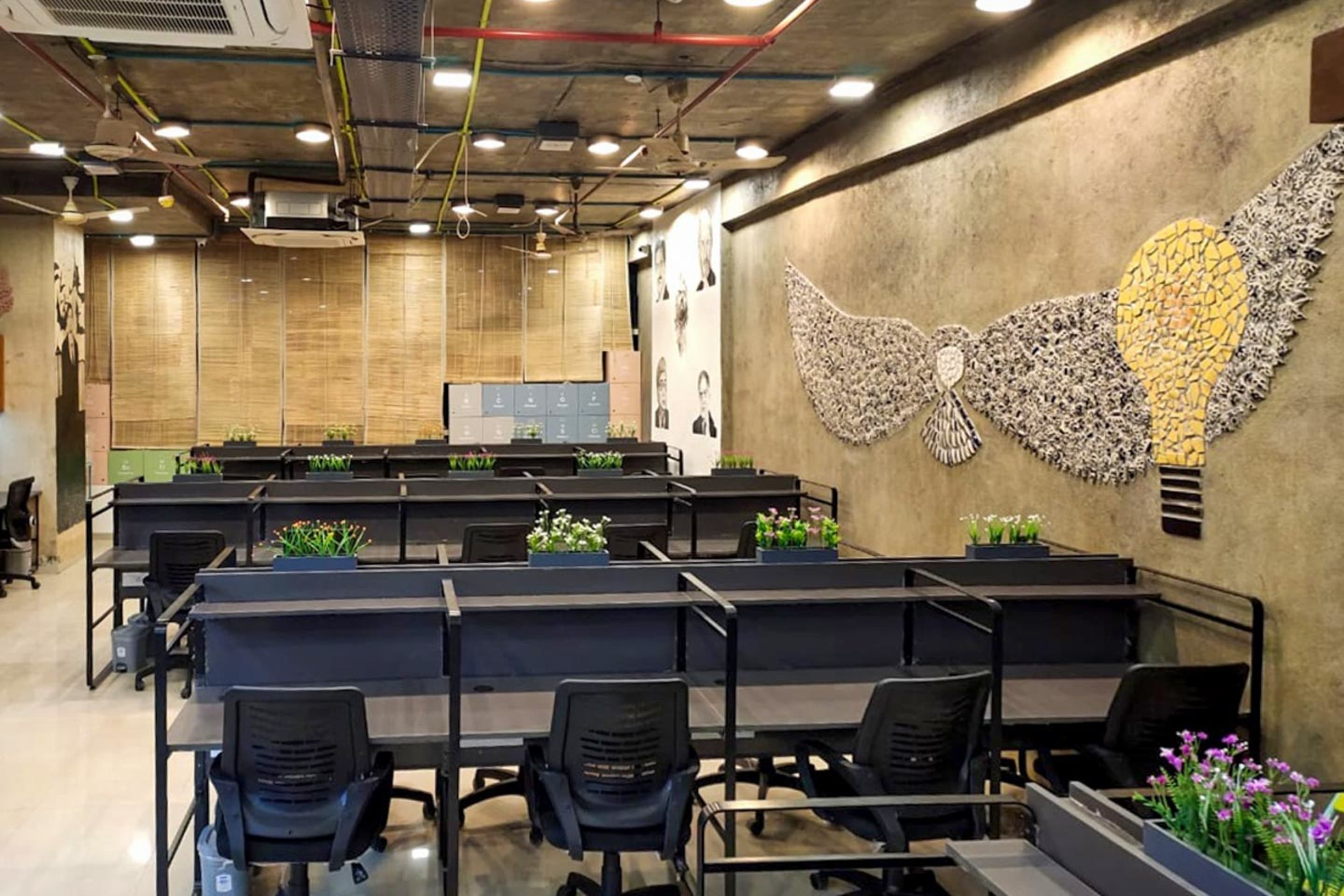 myHQ offers a multitude of sophisticated designed coworking spaces in Indore. Fixed Desks, Flexible Desks, Meeting Rooms, and premium sized cabins are available to suit teams of all sizes at this coworking space in Hitech City.
Collaboration and teamwork are encouraged in their Meeting Room, lounge area, and pods. The coworking space has a high-tech infrastructure, and access cards that are specifically issued to coworkers for increased security.
Facilities offered:
Refreshments
Mailing arrangements
Lounge
Parking
Storage
Work Studio Coworking is a choice workspace situated in the city of Indore. It is one of the most startup-friendly coworking spaces in the city due to its zero downtime and hassle-free move-in and move-out facilities.
This coworking space in Indore greets you with an elegant lounge area and various breakout zones. Fixed desks are available if you prefer to work from a dedicated space every day, and flexible workstations are also available if you prefer to change locations every other day. Shared office spaces are also available for growing businesses and expanding teams.
Meeting and conference rooms can be used for hosting critical corporate meetings and team discussions. Work Studio coworking is not only about the office space, but the people and the community of entrepreneurs and their values.
Facilities offered:
Pantry
White Board
Lockers
Parking
Power Backup
Address:
Work Studio Coworking, Krishna Business Centre, 4th floor, near Medanta Super Specialty Hospital, Ratna Lok Colony, Indore, Madhya Pradesh
Check out Work Studio Coworking here!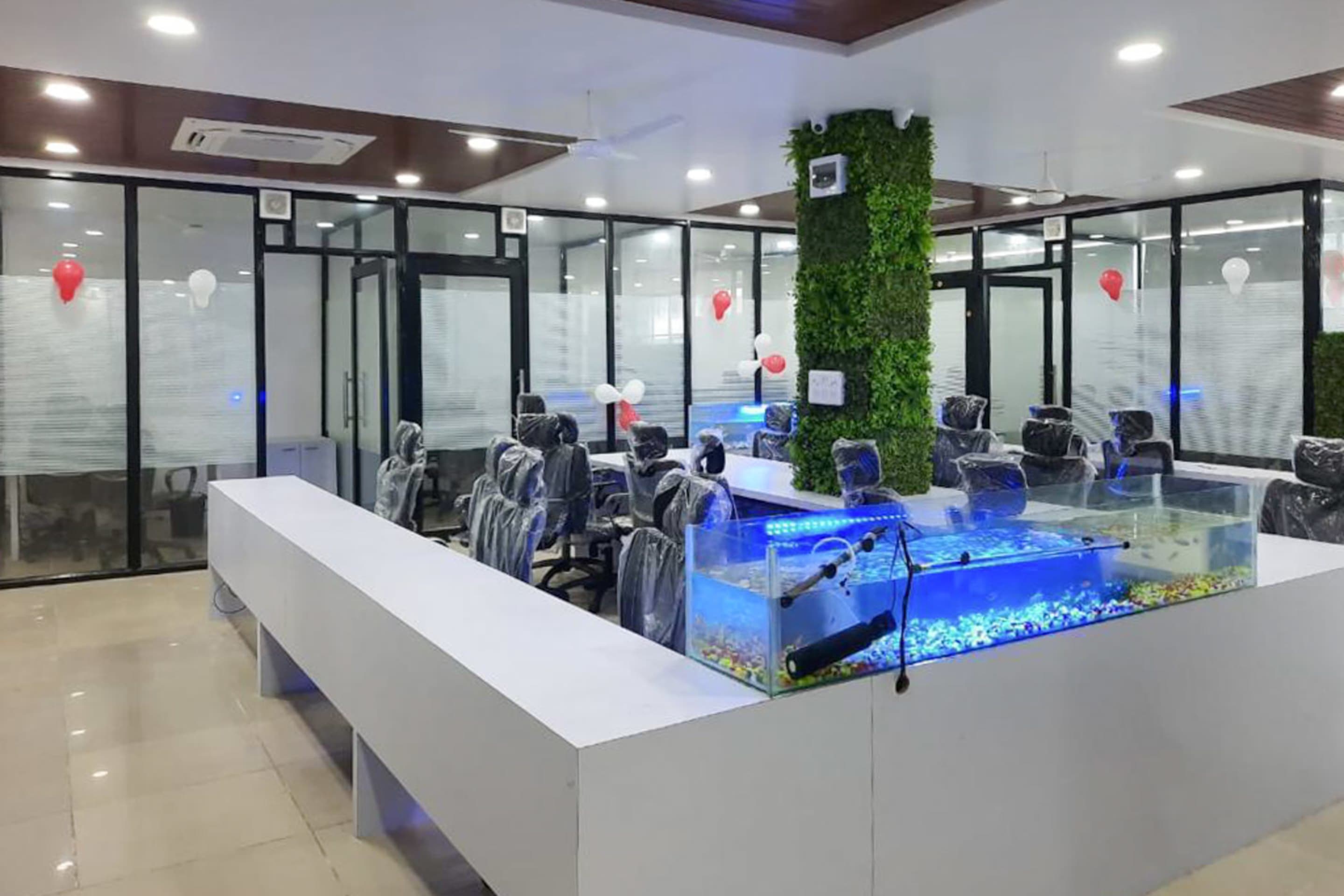 Virtual Coworks is a popular coworking choice among Indore coworking venues. This coworking space is located in Platinum Plaza, a major business location. IT offers coworking options such as a flexible desk, private cabin space, and a conference room.
The coworking space in Indore has got modern design, which creates a setting that can potentially improve your creativity. Their thriving community of seasoned professionals provides you with the required guidance to aid you in your company's success.
Virtual Coworks is an excellent spot to begin your coworking journey, with 24-hour access, gorgeous workspaces, and cutting-edge amenities.
Facilities offered:
Conference Rooms
Office Supplies
Reception
WiFi
Lounge Area
Address:
101 Platinum Plaza Pu 4, Behind C21 Mall, Scheme 54 PU4, Indore, Madhya Pradesh 452010
Check out Virtual Coworks here!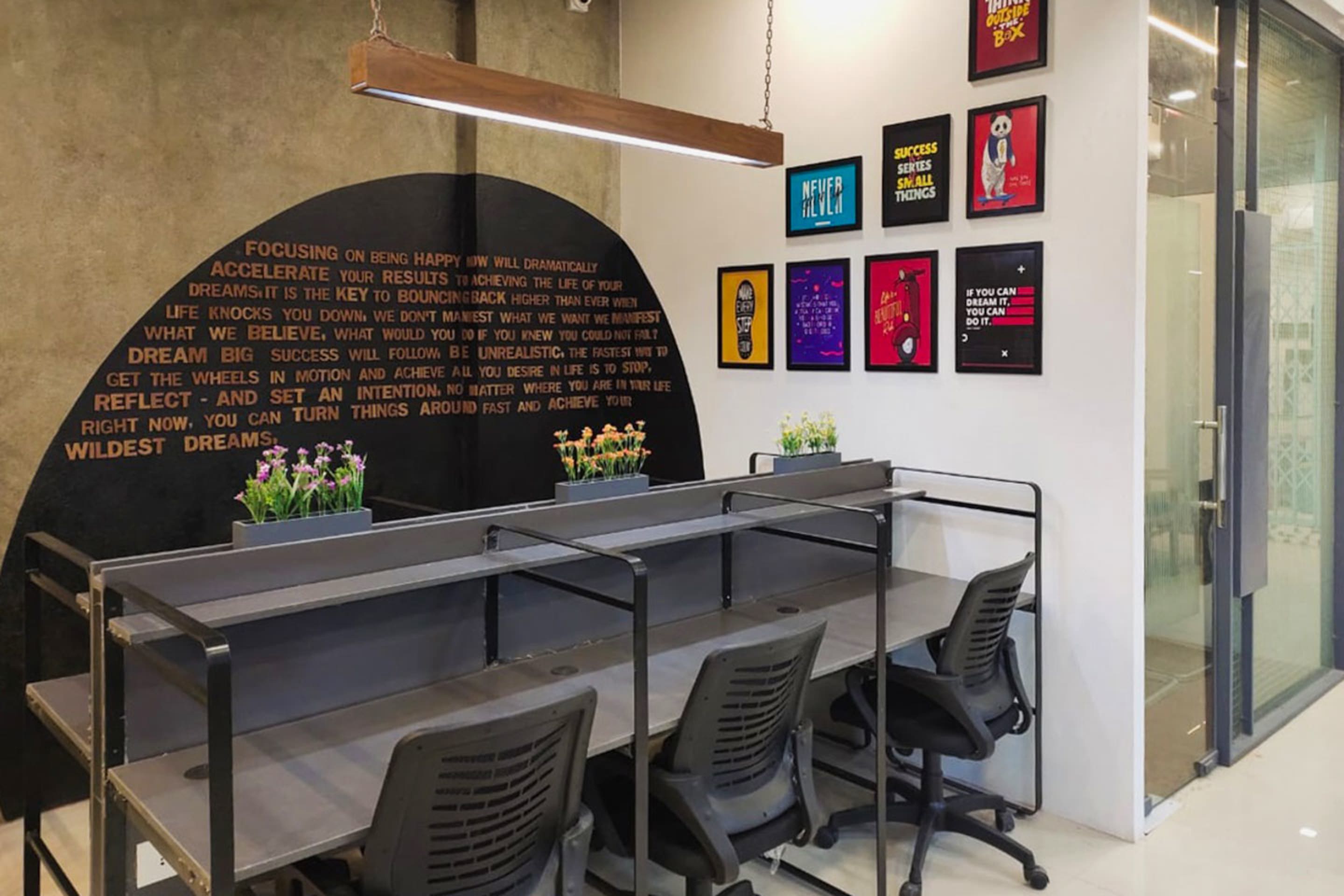 Acrospaces coworking space is a one-of-a-kind coworking solution in Indore, with professional-looking workstations and a corporate atmosphere. Their helpful onsite management allows you to focus entirely on your business.
Acrospaces provides their associates with the option of working from a variety of areas within the facility, including a lounge area, breakaway zones, café, and many others. Recreational zones have also been established to assist their coworkers in unwinding after a long day at the office. If you're tired in the middle of a hectic day at work or need some fresh air, you may go to this coworking space's lovely outdoor terrace for a break.
Coworkers are also supplied with dedicated storage rooms and personal lockers to ensure that all of their vital office equipment is kept safe. This coworking space in Indore is conveniently accessible from all major regions of the city due to its location on AB Road.
Facilities offered:
CCTV Cameras
Admin Support
Meeting Rooms,
Storage Lockers
Onsite Security
Projectors
Address:
207 Princes Business Skyline, A.B. Road, above WESTSIDE, Indore, Madhya Pradesh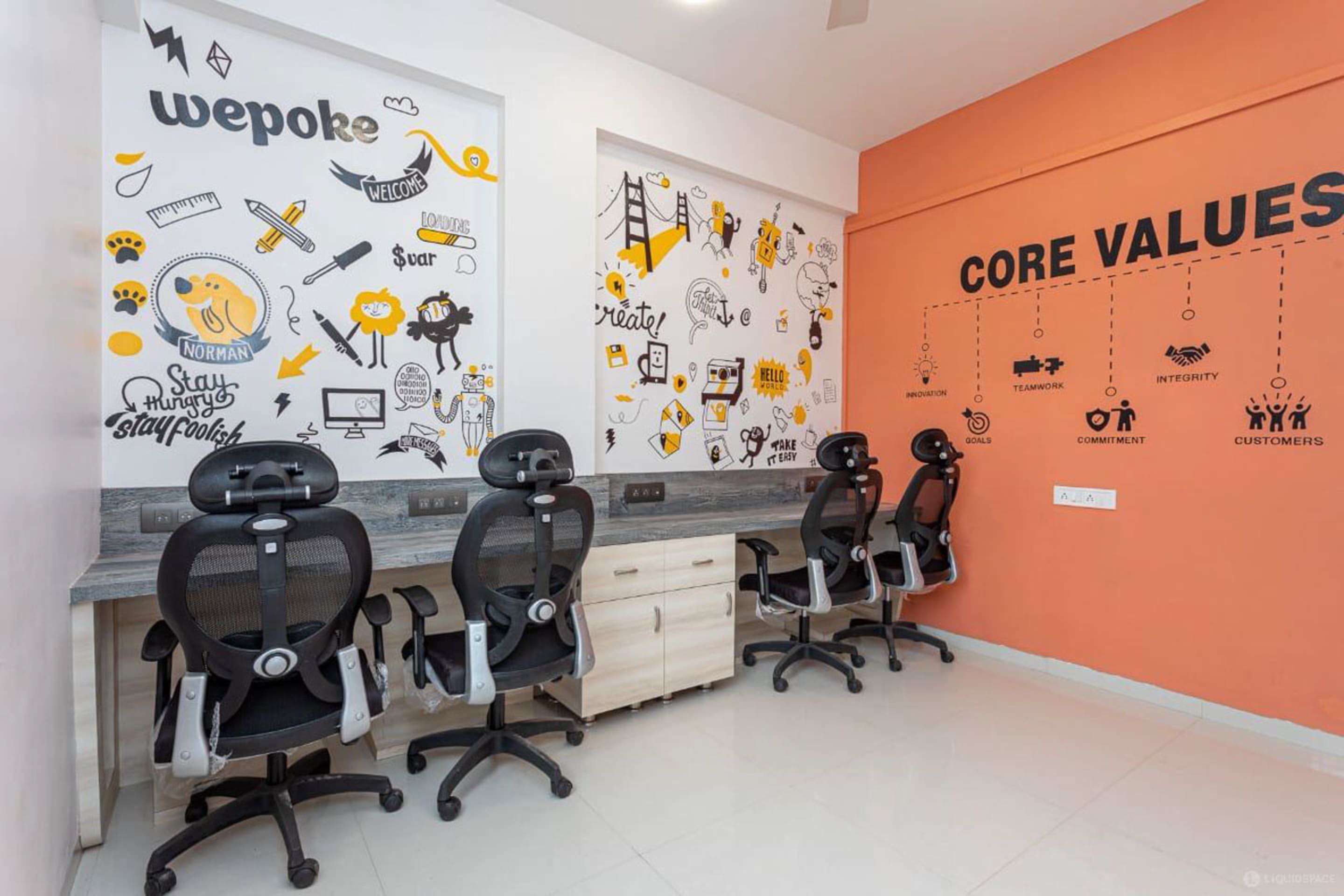 Livewire is more than simply a shared office space; it's a coworking ecosystem that offers a variety of coworking options. This coworking space in Indore was founded on the concept of providing a complete workspace and ancillary services package for aspiring entrepreneurs and startups.
Their artistically built coworking spaces offer their associates the most flexibility and generate fantastic prospects for cooperation. They're also known for their plug-and-play office solutions, which come in the shape of day passes and night passes.
Facilities offered:
Phone Booth
Co-Living Accommodation
Outdoor Terrace
Lounge Area
Event Area
Address:
1074, near Bharat Petroleum, Part II, Scheme No 114, Indore, Madhya Pradesh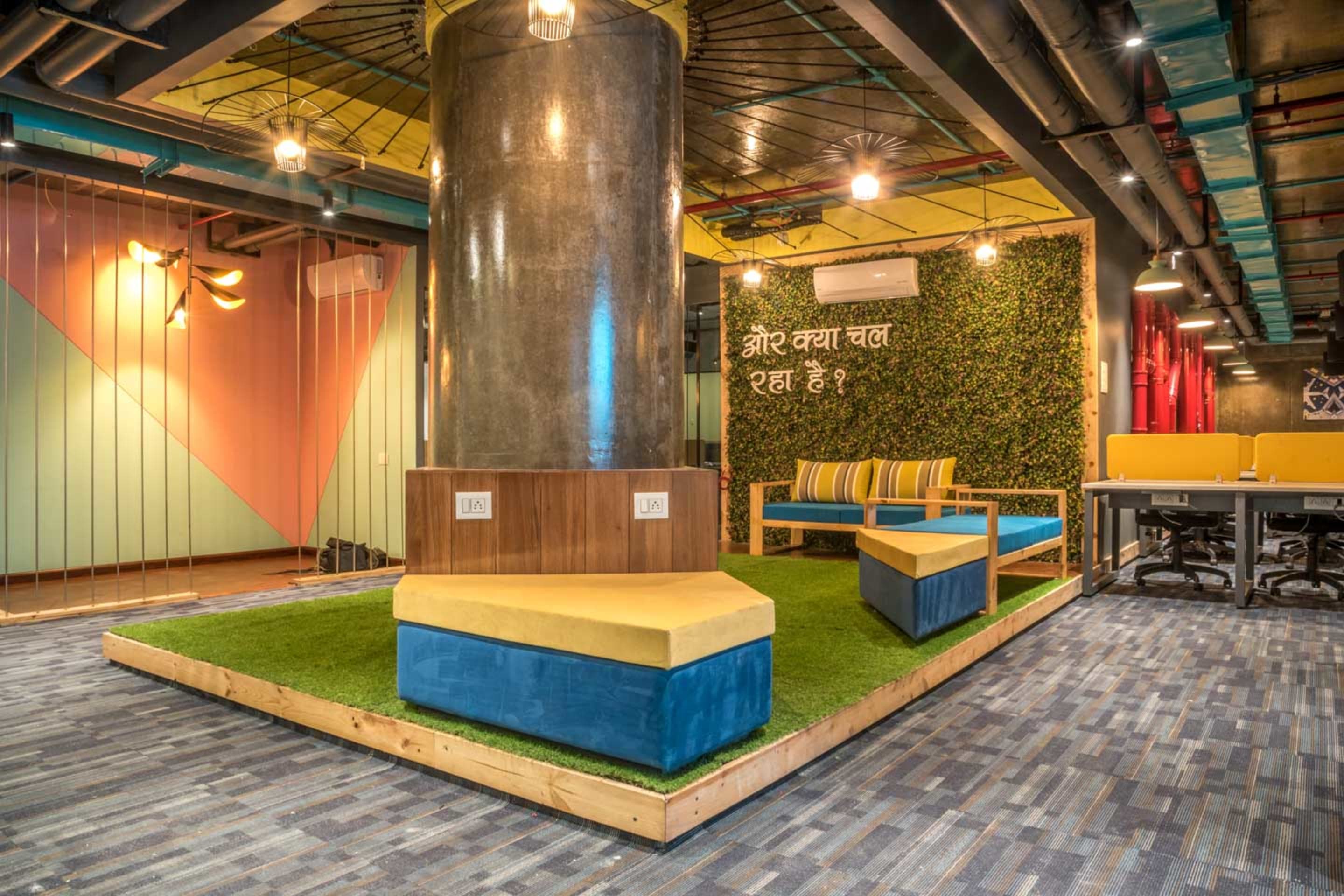 This coworking space in Indore is spread across four key areas. Fixed workstations, private cabins, meeting rooms, and conference rooms are available in their Metro Tower coworking space. When you choose this coworking space, you'll also get free access to the meeting and conference rooms, which are designed exclusively for holding private conversations with coworkers and are available on a first-come, first-served basis.
All of these coworking solutions can be used for a single day or for a longer period of time, depending on your needs. The elegantly built coworking space gives its coworkers a sense of luxury.
Facilities offered:
Conference Rooms
Unlimited Refreshments,
Reception
Lounge
IT Support
Address:
7th Floor, 701, A- Block, Metro Tower, AB Rd, near Mangal City, Vijay Nagar, Indore, Madhya Pradesh 452011
Regus coworking solutions encourage increased cooperation through its specially designed offices. Their scalable coworking solutions are highly adaptable to enterprises and teams of any size.
This coworking office in Indore provides all you need to accelerate and grow your business through its productive coworking atmosphere. Coworkers have secure 24-hour access to the area, allowing them to be as flexible as possible at work.
Important conversations can be readily held in specialised phone booths that provide employees with privacy. This coworking space provides a wide range of networking opportunities that might assist you with your expansion ambitions through their shared spaces.
Facilities offered:
Phone Booths
24*7 Access
High-Speed Internet
Lounge Area
Reception
Address:
Plot 1A, Scheme 113, above KTM Bikes, Vijay Nagar, Indore, Madhya Pradesh 452010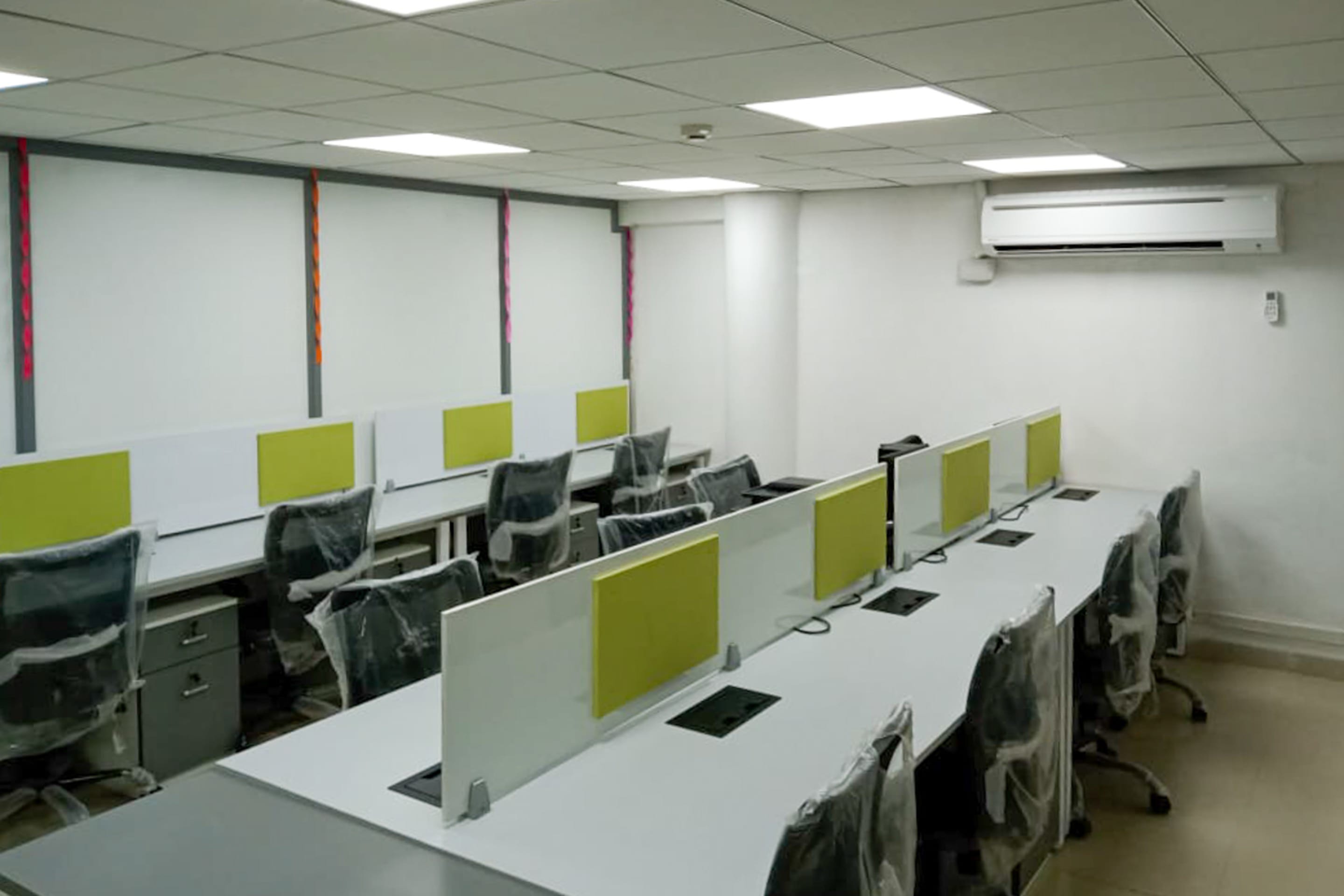 MyBranch is located on Race Course Road in Indore, is a well-designed workspace perfect for teams of all sizes. They provide a variety of ready-to-use coworking spaces, depending on the size of your company.
This coworking space in Indore houses a community of independently working people and workers of several MNCs. The power backup facility ensures that you have uninterrupted access to your work, resulting in increased focus and productivity.
Facilities offered:
Storage facilities
Projectors
Reception
Conference Room
Concierge Services
Address:
Ground Floor, M-12 to 16, Commerce House, 7, Race Course Road, RS Bhandari Marg, Indore, Madhya Pradesh
Summing it up
Coworking spaces in Indore provide a variety of membership plans to suit your needs. These Indore shared office spaces can readily accommodate everyone from startups or freelancers to major multinational businesses. Because many of the coworking spaces in Indore are conveniently placed in prominent commercial areas, accessibility is not an issue.
Liked this article? Read more:
https://digest.myhq.in/inspirational-coworking-spaces-in-noida-sector-63/
https://digest.myhq.in/places-to-go-for-team-building-activities/