According to the Global Coworking Unconference Conference, the number of coworking members around the globe by 2022 will reach 5 million. India has around 1000 coworking spaces and the number is growing. The first quarter of 2019 alone saw a 277% jump in coworking space leasing in India. Going by these figures, it's safe to say that the culture of coworking is only going to grow from here on. In this article, we will be sharing with you some of the best coworking space in Nehru Place, one of the most prominent business areas in Delhi.
Coworking spaces are more than just purchasing a membership plan for a desk or a cubicle to work from. The trend that caught up in India around 2008 has now expanded to include facilities like cafes, recreational areas, career counselling, events, and seminars, among other things.
In this blog, we look at 5 best coworking space in Nehru Place:
Book your Free Trial at myHQ here.
The most preferred coworking space in Nehru Place is myHQ. It provides custom work solutions for individuals, growing startups and enterprise teams. Choose between their flexible pay-per-use plans, dedicated seats, private cabins and serviced offices.
And that's not all! As a community member, you also get access to community benefits worth INR 10 lacs on 100+ partner brands like AWS ($5000 credits), Digital Ocean ($500 credits), Segment ($50000 credits) and more.
myHQ partnered coworking spaces are well designed and arranged to keep in mind the convenience and requirements of its members. These spaces keep your creative juices flowing and ensures maximum productivity. Ideal for teams and individuals alike.
Address: Multiple locations in Nehru Place
Amenities:
High-speed Wi-Fi
Unlimited premium beverages
Private and shared work desks
Breakout area and 24×7 security
Conference rooms and private office cabins.
Access to office basics like printer, scanner, stationery
Pricing:
Flexible pay-per-use plan starting at INR 1249
Dedicated desks starting at INR 5000
Private cabins starting at INR 6000
Website: https://myhq.in
If you are looking for an affordable but premium coworking space in Nehru Place, Rworkspaces should be your preferred choice. Colourful interiors, well-connected location and vibrant community make Rworkspaces the preferred choice for both individuals and businesses.
Address: Vardhman Trade Centre, Unit 1, 3rd Floor, DDA Building, Nehru Place
Amenities Offered:
Free fast internet
Unlimited tea/coffee
Access to meeting & conference rooms
Complimentary office basics
Pricing:
Dedicated desks at INR 6499
Private cabins at INR 7999
Website: http://www.rworkspaces.com/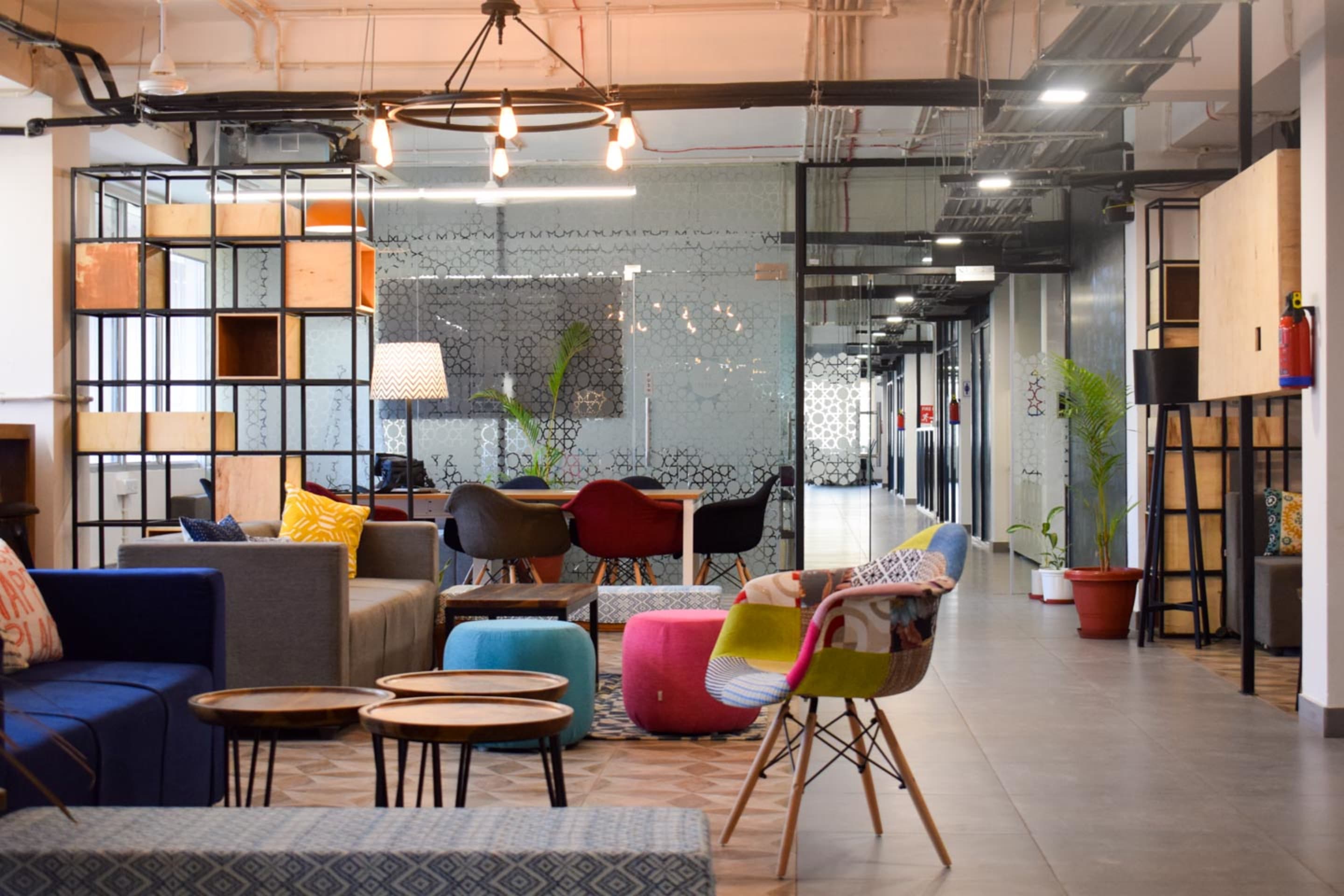 This 24/7 coworking space in Nehru Place is most suitable for both, the night owls and day people. The space has a capacity of 250 plus and has options of working at nights and weekends, too. It also allows its members access to different hubs across the country.
Ambience: The colourful and well-designed interior has options of separate funky tables and chairs as well as shared long desks more on the lines of traditional corporate office spaces.
Address: 3rd Floor, Chandra Bhavan, 67-68, Nehru Place, New Delhi
Amenities: 
High-speed Wi-Fi
24/7 power backup and security
Access to events & a curated list of service providers
Unlimited tea/coffee
In-house café, lounge, and games area
Pricing:
Dedicated desks at INR 8500
Private cabins at INR 10000
Website: https://www.91springboard.com/coworking-space/delhi/nehru-place/
Articles you may like:
Book your Free Trial at Wolk here.
Wolk is one of the most popular coworking space in Nehru Place, located just off Lala Lajpat Rai Road, in the bustling commercial neighbourhood. With a range of perks and facilities and a well-design interior, the coworking space promises convenience required for teams to succeed.
Ambience: Step inside Wolk and get inspired, quite literally! The interior of its open concept layout is enhanced with walls filled with inspiring quotations and peppy motivational posters.
The open layout adds to collaboration and networking opportunities. With large shared tables lined neatly, the cabins are designed aesthetically, too.
Address: Bakshi House, 40-41, Near Chiranjiv Tower, Nehru Place, New Delhi
Amenities:
Shared and personal desks, meeting rooms
High-speed wi-fi
Unlimited tea/coffee
24/7 CCTV surveillance & locker facility
Pricing:
Dedicated desks at INR 5999
Private cabins at INR 6499
Website: https://www.wolkindia.com/
Workly is located just a few minutes walk away from Nehru Place and Nehru Enclave Metro Station, making it an easily accessible and commutable office to work from. Workly's value-added perks such as EMI options to pay the security deposit and the team's support in meeting the requirements of its members enhance the working experience.
What is more? Workly also has an app that makes it easy for the members and users to make instant bookings and track availability at the space.
Ambience: Workly's creative layout has a combination of long tables and smaller workstations spread around spaciously. The unassuming décor adds to the contemporary vibe of the space. A sudden pop of colourful chairs punctuates the otherwise subtle colours of the office furniture.
Address: Hemkunt Chambers, 3rd Floor, 310, Nehru Place, New Delhi
Amenities:
High-speed Wi-Fi
Unlimited tea and coffee
Complimentary printing, cafeteria, 24/7 electricity backup
Pricing:
Dedicated desk starting at INR 6999
Private cabins at INR 7999
Website: https://www.workly.in/location/nehru-place/
Book your Free Trial at Coworkin here.
With a capacity of 200, Coworkin is among the larger coworking space in Nehru Place. The space boasts affordability, a diverse set of members and a stress-free environment for working. The minimal office-like ambience and atmosphere are best for those who prefer to work in quiet atmospheres.
Ambience: More on the minimal side, Coworkin space is kept to the basic office furniture and neat ambience with as little visual distractions possible.
Address: 39, Kushal House, Nehru Place, New Delhi
Amenities:
Personal and shared desks, private offices
Meeting rooms, event space, and virtual offices
High-speed wifi
Free beverages
Pricing:
Dedicated desks at INR 6499
Private cabins at INR 7499
Website: https://www.coworkin.co/delhi-nehru-place.html
Do you want to know more about coworking? Read some more of our related articles:
Here's How Coworking Is Redefining The Workplace Culture In India
8 Inspiring Coworking Spaces In Gurgaon For Your Entrepreneurial Soul
Reimagine Your Workspace With These 7 Coworking Spaces In Noida