With great power comes great responsibility, and putting great minds at work is no easy feat. With the rise of the gig economy and entrepreneurship, the Indian workforce is undergoing a drastic shift. This has given rise to shared workspaces which makes it easier for people to start up. In this article, we will cover some cheap coworking space in Noida along with suggestions for other areas.
Remote work is gradually growing popular and employees are no longer slogging off at a 9-5 day job. To suit this current and evolving workforce, several coworking spaces have been observed cropping up across the country.
Notably, India is the second-largest market for flexible workspaces, second only to China, according to a CBRE report. Also, the market for coworking spaces has doubled in the year 2017 with Bengaluru, Mumbai, and Delhi-NCR emerging as coworking hubs.
10 Budget Coworking Spaces in Noida
Curated below is a list of cheap coworking space in Noida which you should know about:
This unique coworking space takes care of all your work-related needs by providing a creative ecosystem so as to boost the productivity, motivation, and networks of their visitors. You can work across 100+ myHQ workspaces and enjoy comfortable furniture, unlimited office supplies, and high-speed internet.
They have a network of both work cafes and beautiful fully-furnished coworking spaces. People can even choose a plan suiting their needs.
With a vibrant community and ample community benefits, it is nothing short of a miracle for young minds who are looking for a vibrant work environment with excellent amenities.
Work from myHQ coworking spaces at just INR 200/day.
ALTF coworking spaces are one of the most innovative and collaborative coworking space in Noida that deviate from traditional office settings. ALTF coworking spaces provide flexible and creative workspaces for individuals and businesses seeking an alternative work experience. This coworking space attracts diverse professionals, including freelancers, entrepreneurs, and remote workers, with various membership options. Apart from that, this dynamic and inspiring work environment encourages engagement and further provides a supportive atmosphere for individuals and teams to thrive.
Another affordable gem among coworking spaces, Lets Connect has playful interiors to uplift your spirits on any given workday. Lets Connect affords great flexibility to its users, who range from free-spirited professionals looking for dynamic workplace solutions to enterprising teams needing fully-serviced office spaces and meeting rooms.
Located near the sector 59 metro station in Noida, Lets Connect is easily accessible and adaptive for everyone. You can opt for the monthly, weekend, part-time plans and walk into the space 24×7. In addition to the various in-office services they offer, Lets Connect also has spacious break rooms and game rooms to liven up your lunch breaks. You can check out their website here.
Work from here at just INR 200/day under the flexible coworking plan.
Revstart is yet another economical or cheap coworking space in Noida offering a like-minded community of young and bright professionals, a focused incubation program to help nurture your business idea and personalised mentorship along with coworking seats.
You can opt-in for a private cabin seat, open dedicated seat, virtual office services, part-time plan and a one-day plan to work from 9 am to 9 am. It is open all week and is located in the business hub of Sector 125, Noida.
Work from here at just INR 200/day under the flexible coworking plan.
Other coworking spaces in NCR:
Calling itself as a 'coworking sanctuary,' this workspace located in Noida, Sector 67 intends to bring together professionals from all walks of life under a single roof and have creativity, ideas and innovation ooze out and encourage collaboration so everyone can reach their desired goals!
Interestingly, it is India's first Zen-designed coworking space and follows the Zen philosophy of minimalism and simplicity – celebrating natural materials and visual balance.
Both open and connected workspaces reside alongside private work clusters and cabins without cluttering the whole design flow. It offers multiple utilities as well such as plug and play facility, hot desks, high speed, prime location, business centres, serviced office, and convenient location.
Work from here at just INR 200/day.
Located in Noida, Sector 4, it is a workspace designed for entrepreneurs who are crazy and curious and know how to mix work and play efficiently! This state-of-the art-work cheap coworking space in Noida is for people who want to focus on building innovative products and business generating great value without worrying about paying rent or running out of that scalding cup of coffee!
Therefore, it has everything to suit your needs from meeting rooms, comfortable workstations, networking opportunities and adequate amount and menu of snacks and drinks.
Work from here at just INR 200/day under flexible coworking plan.
[optin-cat id=7239]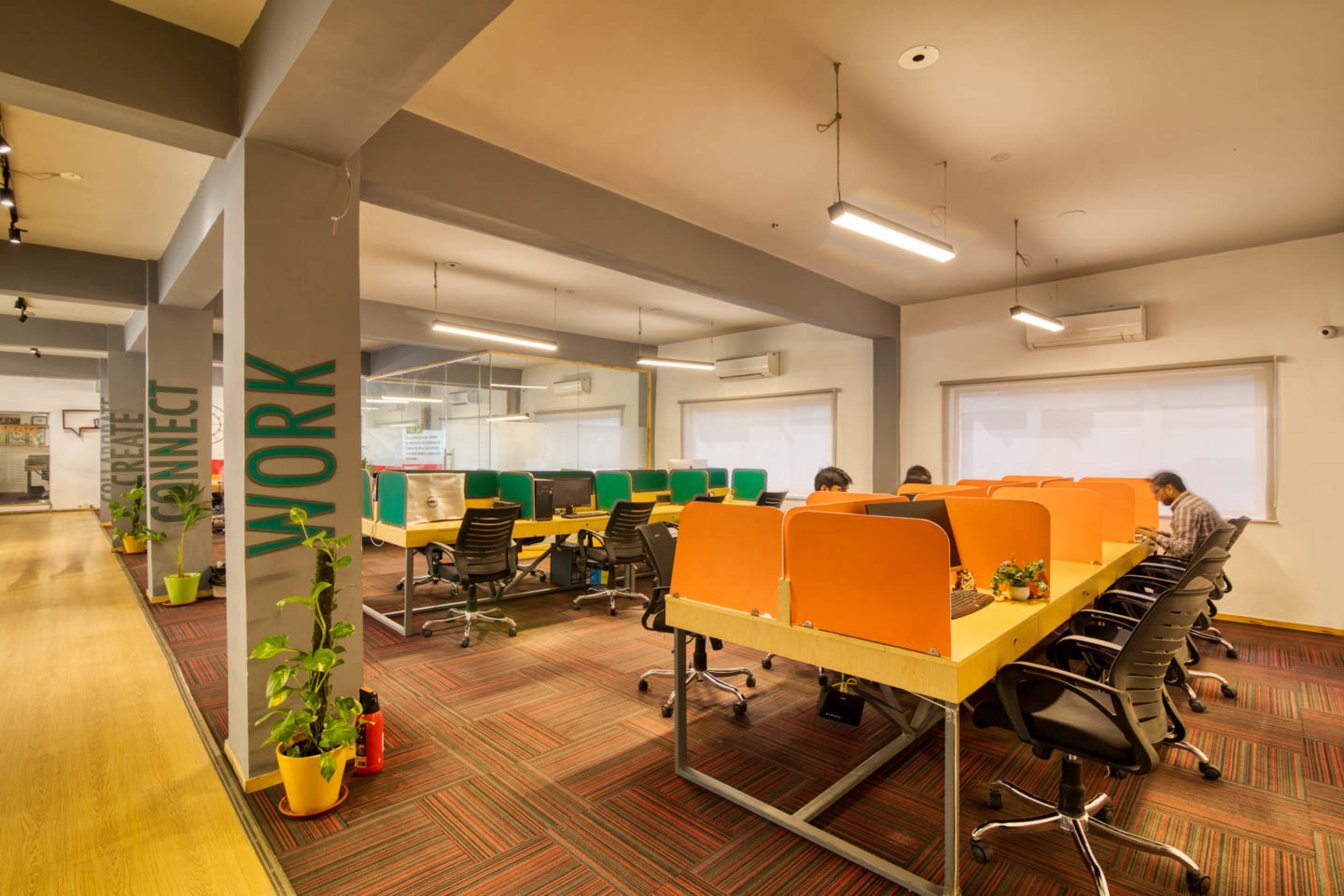 Based out of sector 8 in Noida, it is India's fastest growing network for office spaces which lets you work from any place of your comfort. Meant for teams of any size and to be used for any duration of time, the workspace is beautiful, functional, and affordable and offers all that is required in a working office, like fast internet, beverages, utilities, security, and personal assistance.
They even offer 'Unwind Sessions' which are meant for learning, networking, and reinvigorating oneself for one's professional and personal quests ahead. The nearest Metro Station is Noida, Sector 16 and you can work from here at just INR 200/day under a flexible coworking plan.
A relatively new and cheap coworking space in Noida, it is an extremely premium co-working space in the vicinity of a staggering 10,000 sq ft. of office space done luxuriously, bearing in mind the comfort and confidentiality that comes with maintaining a company.
It is the perfect platform for both freelancers and early-stage companies as it gives them adequate and excellent space and tools they need to grow their businesses.
Work from here at just INR 200/day.
The industrial oasis of Noida hosts this dream-like shared office space. Possessing a capacity of 150 seats, Workplex Noida offers to you the option to work from sunny-quaint spots as well.
It has gorgeous artistic interiors and an exceptional work ambiance, so much so that you can actually work while sitting on a hammock! You get the idea, right? 
Located in Sector 63, Noida, Parexl Workspaces is an affordable coworking spaces that aims to promote networking and encourage collaboration amongst its members. It is a beautiful coworking space with modern architecture and aesthetic interior. It offers dediacted desks, meeting rooms and private cabins, and some of their high-end amenities include 2- and 4-wheeler parking space, power backup, lift, high-speed wifi, pantry area, lift, tea and coffee and more. It is also in close proximity to the metro station.
It is an ideal space for corporates and startups.
Conclusion
Coworking in the current era is not simply a personal need but rather a movement, for it is undoubtedly redefining the way we work and live.
The open nature of work in several industries is now giving way to a sustainable future through a new work-life balance and benefits multitudes of businesses, freelancers, and corporations. Therefore, we must come together and gracefully be a part of this mini-revolution that is changing our professional lives one day at a time.
Hope you liked the list of cheap coworking spaces in Noida and are heading to one of them today!
Liked it? Read more here: