Over the past few years, coworking spaces across India have evolved hugely with metros such as Delhi, Bangalore and Mumbai becoming major hubs for shared workspaces that are designed for fresh ideas and networking. In this article, we will cover the top coworking space in West Delhi along with spaces in other prime areas in Delhi NCR.
Companies opting in for coworking are often defined as self-directed, collaborative, flexible and voluntary workplaces that are based on mutual trust and the sharing of common core values between their participants.
Here are the top 8 coworking spaces in West Delhi:
1) myHQ
Book your free trial at myHQ here.
myHQ is revolutionizing the way people work by reinventing office spaces. With over 100 coworking spaces and work cafes, it is one of the largest chains of workspaces in India. It has around 10 coworking space in West Delhi.
It reinvents existing cafes, lounges, coworking space and office spaces to give people affordable space where they can work and network out of.
myHQ is well equipped with services to accommodate all work and office requirements, without burning a hole in one's pocket.
It has super-flexible subscription plans which one can enjoy without the worry of a monthly rental, deposit lock-in period or expiry date. They also provide free benefits worth INR 4 Lacs to every community member.
Work from all their locations at just INR 200/day.
2) Co-Offiz, Janakpuri
Book your Free Trial at Co-Offiz here.
Located in Janakpuri, Co-Offiz offers a premium infrastructure which is armed with all the basic office amenities along with a friendly staff that are well equipped to increase your work productivity.
Co -Offiz offers floors of beautifully designed cabins that are lavishly built for budding entrepreneurs
A prime coworking space in West Delhi, Co-Offiz offers private cabin space along with meeting rooms and paid parking facility.
Work from here at INR 200/day on a flexible plan or INR 7999/month for a dedicated seat.
3) Springhouse, Janakpuri
Located in Janakpuri, Springhouse is a great place for startups, freelancers and anyone who is looking to start their business.
Besides basic office amenities, Springhouse also offers an exclusive work area besides a cabin facility.
Work from here at INR 200/day on a flexible plan or INR 7499/month for a dedicated seat.
4) Coworkz, Nawada
Coworkz, New Delhi aims to create a dynamic ecosystem where individuals can thrive and ideas can flourish. The workspace is thoughtfully designed, with modern interiors, comfortable furnishings, and an abundance of natural light to create a welcoming and productive environment. Whether you're a freelancer seeking a focused work area or a startup team requiring a collaborative space, Coworkz offers a range of flexible workspace options to cater to diverse needs.
By choosing Coworkz New Delhi Coworking as your workspace, you gain access to a vibrant community, collaborative opportunities, and a conducive environment for innovation and success. Step into this inspiring coworking space in the West of Delhi, and unlock new possibilities, forge meaningful connections, and thrive in the capital city's dynamic business landscape.
5) Nutriobox, Janakpuri
Located near the Janakpuri east metro station, Nutriobox is a breath of fresh air with its gorgeous eccentric interiors and healthy snacks for super-productive people.
The place is perfect for creative freelancers and entrepreneurs who are looking to get their creative juices flowing while maintaining their best shape.
Nutriobox offers highly customized snacks for health-aware millennials opting for high-protein, low carb diets for the most affordable prices.
Their cheapest plan is at the cost of Rs. 200 for a single visit.
6) Covork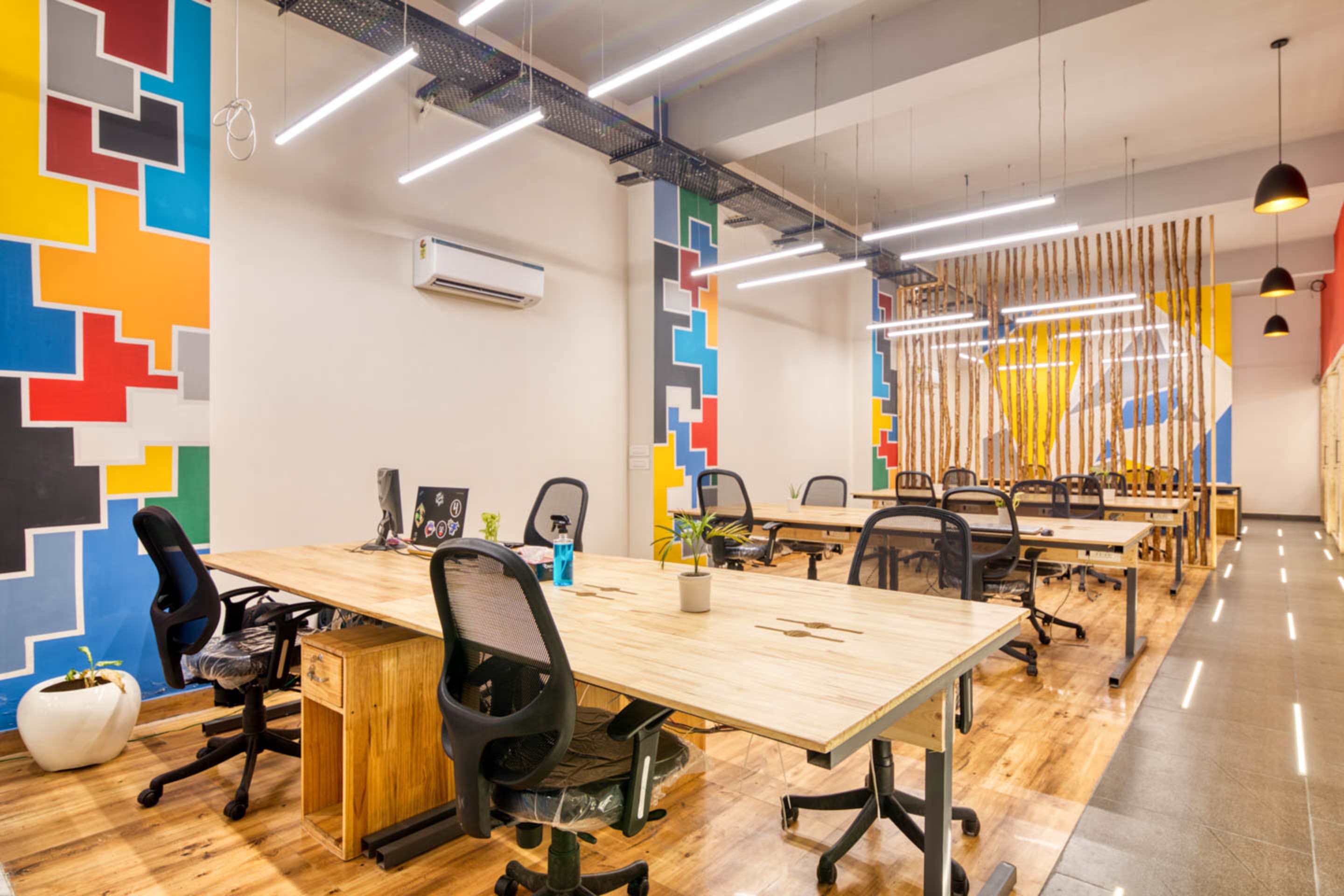 Located in Paschim Vihar, Covork is yet another coworking place that is perfect for creative people.
The location is creatively designed and offers a colourful homely environment for work.
Covork is small yet cosy and besides basic work amenities also offers its client meeting rooms facility which can be used for corporate needs.
Here are other prominent coworking spaces in Delhi NCR:
7) Invento, Dwarka
Located in Sector 12, Dwarka, Invento has a huge space with uplifting decor that inspires budding entrepreneurs to do their best work.
Invento coworking is intelligently designed for collaborative workers and offers beautiful private office space besides meeting rooms, private cabins and a community of forward-thinking people to network and help your business grow.
Work from here at INR 200/day on a flexible plan or INR 5799/month for a dedicated seat.
8) Work Smart
Work Smart offers spacious office settings and well-lit interiors for small and large teams This coworking space offers a comfortable workspace that is easily accessible via car and metro and is accessible from 9 am till 9 pm.
9) Trinity Coworking
Located in Dwarka, Trinity coworking is the perfect location if you looking for privacy while working. This Coworking offers private cabins besides open seat areas for the people who want to network with other entrepreneurs.
Besides regular office amenities and private cabins and meeting rooms, Trinity Coworking also has a canteen facility to cater to all your food requirements.
All the above-mentioned location offers fast free internet service along with a free printing facility. They also offer 24-hour power backup besides free office stationery for everyone. If you have a workspace requirement, head to one of the above coworking spaces in West Delhi.
Liked it? Read more here: